Executive Director and Co-Founder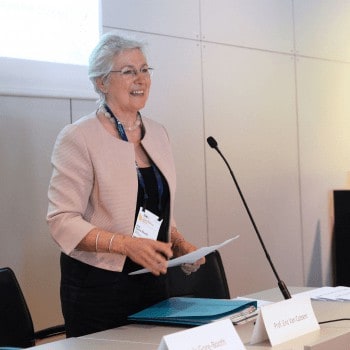 As founder of Europacolon, the base on which DiCE was built, Jola is a passionate central decision-making figure, who brings sound advice with her years of experience in patient advocacy.
EuropaColon, the first Pan European Not for Profit organisation dedicated to colorectal cancer was founded by Jola Gore-Booth in 2004. Fuelled by Jola's passion EuropaColon is now a respected voice in Europe on cancer.
She was Chief Executive of Colon Cancer Concern (CCC), a leading UK colorectal cancer charity (now known as Bowel Cancer UK) between 1997 and 2005. Jola sits on various key Patient Advisory Boards (ECCO, ESSO, EFPIA etc). She also campaigns tirelessly to ensure that governments and other stakeholders prioritise colorectal cancer. In 2010 Jolanta founded Global Colon Cancer and in 2011 she joined forces with Andy Spiegel (the then CEO of the Global Colon Cancer Alliance in the US) to launch the Global Colon Cancer Association (GCCA).
In 2007 Jolanta designed and developed the first colorectal cancer educational tool – the Inflatable Colon. The Inflatable Colon has travelled extensively across the globe breaking down the taboo around colorectal cancer.
Email: jola@digestivecancers.eu