2nd DiCE Colorectal Cancer Screening Summit

Thank you for an unforgettable event – moving things forward on better CRC screening across the EU and beyond
The 2021 edition of this event held on November 30 proved to be another unmissable session for the digestive cancers community, bringing together the key CRC screening groups to discuss the importance and practicalities of having population based screening practices implemented across Europe – programmes that are proven to save lives!
Download the Summit Report, or access the event recordings through the agenda below.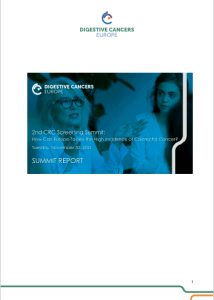 You can read the outcomes of last year's CRC Screening Summit on this page.
AGENDA AND VIDEOS
Time

Speaker

Title

Topic

9:00

Zorana Maravic

Iga Rawicka

CEO, Digestive Cancers Europe

Acting Chair of the Board, Digestive Cancers Europe

Welcome

9:10
Stella Kyriakides
Commissioner for Health, European Commission
Video opening
9:15
Samo Podgornik
Patient Representative, Slovenia

The importance of good CRC screening: the patient perspective

9:20
Dr. Dominika Novak Mlakar
Head of CRC Screening Programme, Slovenia

Panel 1: Designing and building an effective and robust CRC screening programme

9:30

Dr. Carlo Senore

Prof Tomas Poškus

Piedmont Region Cancer Prevention Centre, University hospital Città della Salute e della Scienza, Italy

Professor of Surgery of Vilnius University and Member of the coordination committee of colorectal cancer screening program, Lithuania

Country perspectives

Panel 1 discussion moderated by Tamsin Rose

10:05
BREAK
10:20
Dr. Iris Lansdorp-Vogelaar
Associate Professor at the Department of Public Health of Erasmus Medical Center, Rotterdam, Netherlands, and representing EU-TOPIA.

Panel 2: CRC screening – Lessons learnt from the COVID-19 pandemic

10:30

Iris Seriese

Dr Tytti Sarkeala

Dr Maria Isabel Portillo Villares

Prof. Dr. Eric Van Cutsem

Manager National Colorectal Cancer Screening Program, the Netherlands

Director of Screening, PhD Finnish Cancer Registry Finland

Coordinator Colorectal Cancer Screening Programme, Basque Region, Spain

Head of Digestive Oncology, Leuven University Hospital, Belgium and Member of the Board of Digestive Cancers Europe

Country perspectives

Panel 2 discussion moderated by Tamsin Rose

 

11:05
Dr. Partha Basu
Head Screening Group, The International Agency for Research on Cancer (IARC)

Panel 3: Making CRC screening work across the Europe – What needs to be done?

11:15

Prof. Luigi Ricciardiello

John F. Ryan

Dr. Tit Albreht 

Chair, Research Committee, United European Gastroenterology

Director of Public Health DG SANTE, European Commission

Head of the Centre for Health Care at the National Institute of Public Health of Slovenia

Panel 3 & discussion moderated by Tamsin Rose
11:50
Zorana Maravic
CEO, Digestive Cancers Europe

The role of patient organisations and citizen groups in shaping the way forward

12:00
Tamsin Rose
Conclusion
12:10
END