ESMO World Congress on Gastrointestinal Cancer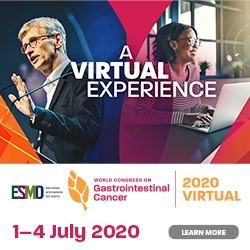 Now More Than Ever, Committed to Advancing Science and Improving Lives
The European Society of Medical Oncology (ESMO) World Congress on Gastrointestinal Cancer took place as a virtual experience from the 1-4 July 2020. Watch the DiCE Symposium from the event.
Highlights
As the premier global gathering in the field, the 22nd Congress brought together leading gastroenterology, oncology, pathology, and hepatology experts, clinicians, and surgeons, as well as clinical researchers from across the globe – virtually – to share pioneering research, approaches, and best practices in treating patients with cancers of the gastrointestinal tract.
The program provided all stakeholders with opportunities to learn, debate, discuss, and network in this very active scientific field where recent progress has led to improvements in patient outcomes.
DiCE 5th Advocacy Masterclass also virtual for 2020
Similarly, our annual Masterclass that runs in parallel to ESMO GI in Barcelona is also taking place virtually. This best practice exchange and training event is now spread over several months in 2020 – check dates and full agenda today.