European Colorectal Cancer Awareness Month (ECCAM 2023) Launch Event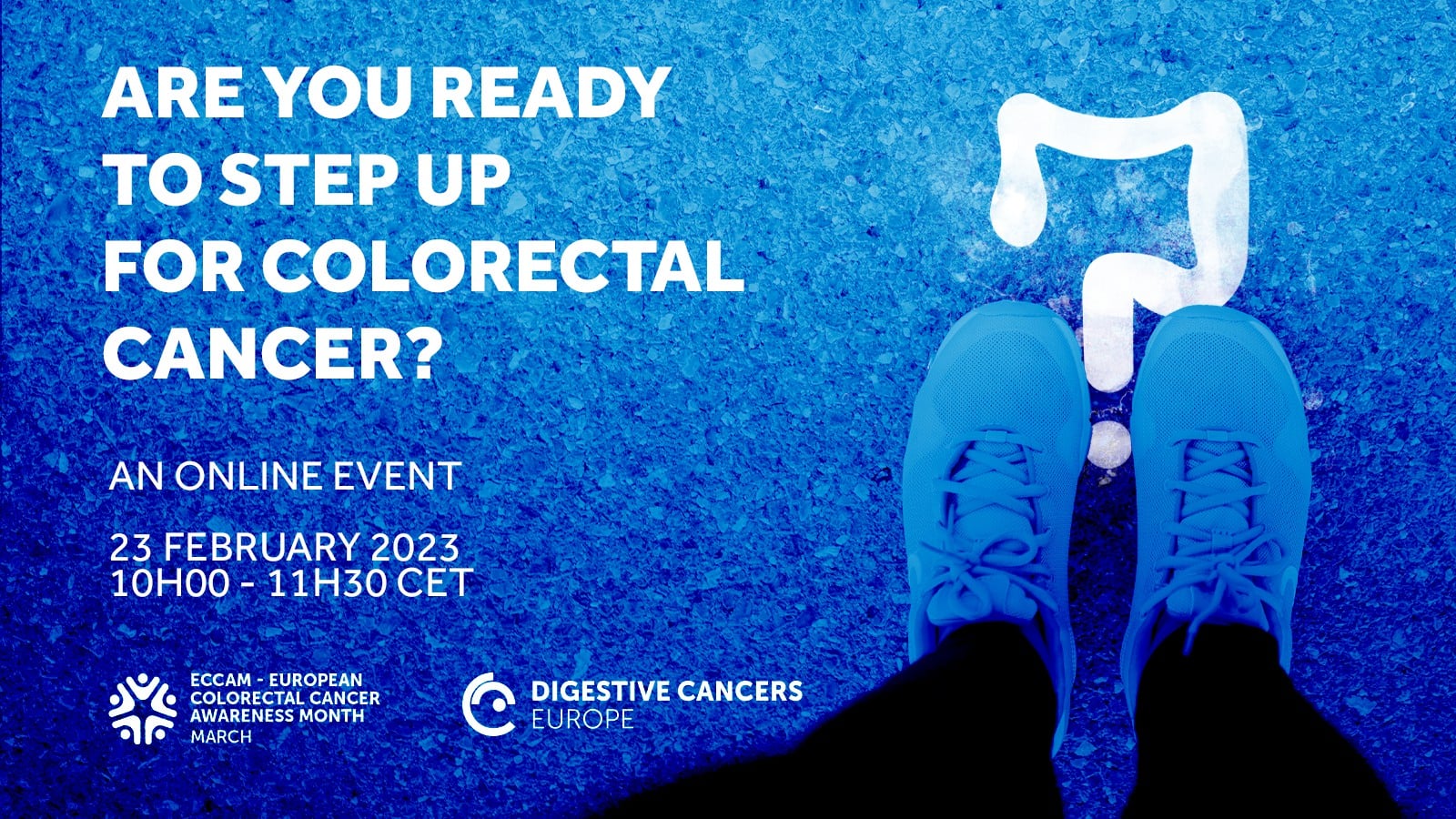 #ECCAM2023 'Step Up for CRC'
A heartfelt thank you to all the participants and speakers who made #ECCAM2023 'Step Up for CRC' such a success! Your commitment to raising awareness for colorectal cancer is greatly appreciated. We look forward to continuing our efforts to make a difference in preventing Colorectal Cancer and enhancing the quality of life of patients and their carers.
In 2020 CRC took the lives of 240.000 Europeans, devastating their families and loved ones along the way. CRC is Europe's second and third most common cancer in women and men, respectively.
Every March, since 2008, first with EuropaColon and continued in 2018 when we rebranded to Digestive Cancers Europe (DiCE), we have led the European Colorectal Cancer Awareness Month (ECCAM) campaign to improve awareness of CRC.
At this year's event, DiCE launched STEPAPP, a free mobile app that counts your steps. STEPAPP aims to further engage with the general public and provide an opportunity to learn about CRC and ways by which it can be prevented (e.g. by talking about a healthier lifestyle through walking), as well as to raise awareness about Digestive Cancers Europe and its national Member Organizations.
How to join
Joining our Step Up for CRC event is free and easy.
To get involved, simply download our free mobile app STEPAPP and get moving!
In addition to raising awareness on Colorectal Cancer and the importance of prevention, we are also raising funds for DiCE and its Member Organisations. There are many CRC charities you can raise funds for.
Find out more about our members here.
How it works
Our app will measure your daily steps through the technology on your smartphone, and add them to the total steps taken by walkers all around Europe. We want to see that number get as large as possible.


Zorana Maravic - Step Up for CRC
Deirdre Clune - ECCAM Launch event
Ruel Jacob - Step Up for CRC