Launch – European Colorectal Cancer Awareness Month 2022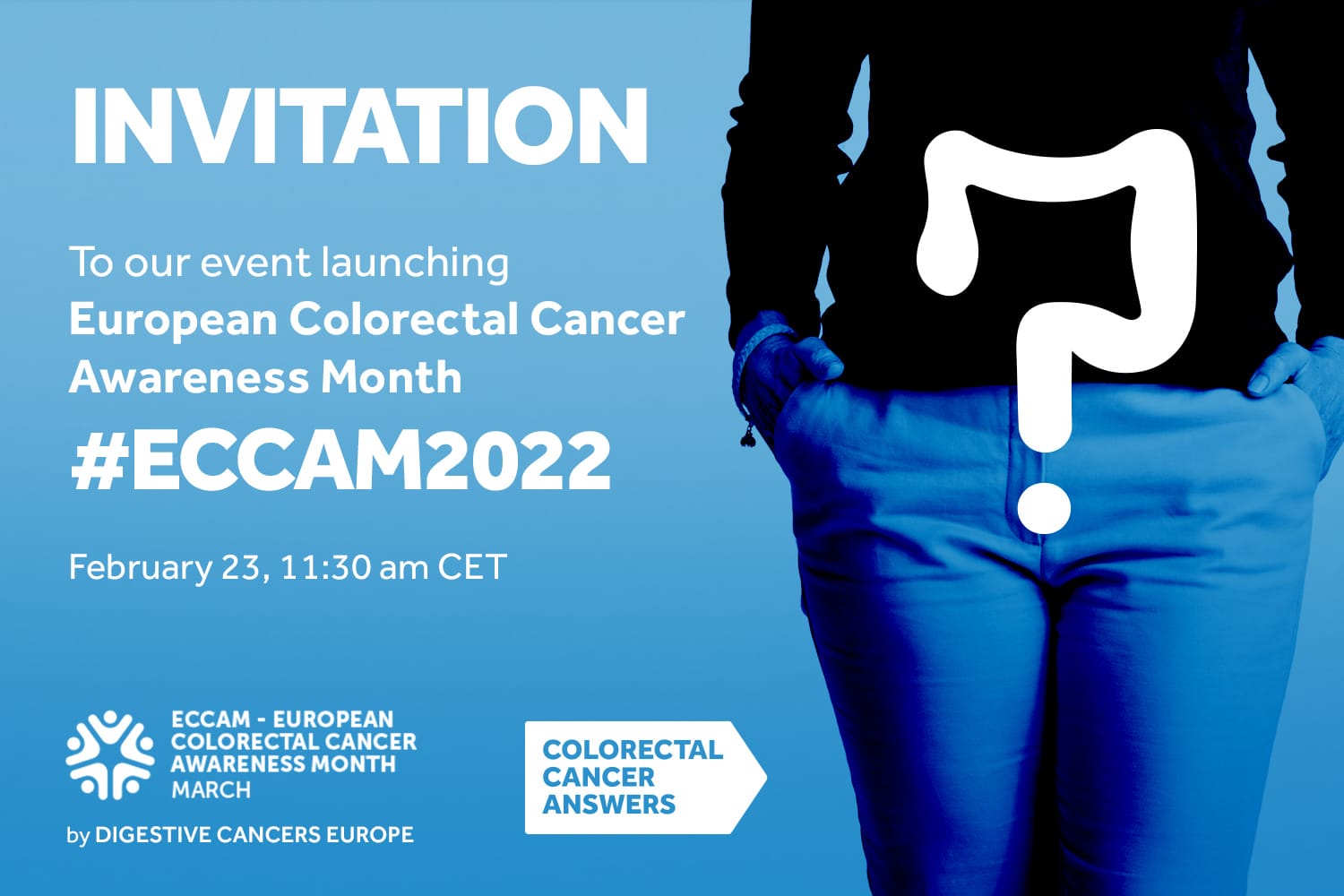 European Colorectal Cancer Awareness Month #ECCAM2022 'Colorectal Cancer – Seeking the Answers'
March is European Colorectal Cancer Awareness Month #ECCAM2022
Thank you to all who joined us – speakers and participants – for our launch event on February 23, 2022
You can watch the event videos via the links below:
Video 1: Impact of COVID-19 on CRC
Video 2: Successful campaigning
Video 3: Role of national and EU institutions in tackling CRC
Video 4: #ECCAM 2022 Awareness Campaign – The answer is – get screened
Colorectal Cancer – Seeking the Answers!
AGENDA
TIME
Speaker
Title
Topic
11:30
Tamsin Rose
Moderator
Introduction
Impact of Covid-19 on CRC
11:35
Zorana Maravic
CEO, Digestive Cancers Europe
Welcome
11:40
Vincent de Jong
Patient Advocate
Stichting Darmkanker
The Netherlands
When Cancer and Covid Collide - CRC diagnosis during Covid-19
11:45
Carlo Senore
Coordinator, Piedmont Region Screening Program
The impact of Covid-19 on CRC screening programmes across Europe
11:50
Discussion (ALL)
• How do we overcome hesitancy and population fear of approaching health centres after the impact of the pandemic and new waves?
• What, if any, changes should be made on the CRC programmes performances, workforce and the way they interact with patients in a post covid environment?
• Should invitations to the population extended to include people older than 70 years of age?
Successful Campaigning
12:00
Mark Lawler
Co-Chair, European Cancer Organisation's Special Network on the Impact of Covid-19 on Cancer
European Cancer Organisation
Time to Act - Don't let Covid-19 stop you from tackling cancer
12:05
Luc Colemont
Managing Director
Stop Darmkanker
Campaigning for CRC awareness
12:10
Patricia Kramarova
President
EuropaColon Slovakia
CRC Screening – Working on a local level
12:15
Discussion (ALL)
• What are the key learnings for successful campaign implementation/working with policy makers?
Role of national and EU Institutions in tackling CRC
12:30
Tit Albreht
Head of the Centre for Health Care at the National Institute of Public Health of Slovenia
Building on the Beating Cancer Plan - Next Steps in Europe
12:40
Ciaran Nicholl
Head of the Health in Society Unit in the European Commission's Joint Research Centre, Directorate for Health, Consumers and Reference Materials
The European Commission Implementation Roadmap and the Future of Screening in Europe: What Needs to Be Done
12:45
Discussion (ALL)
• How should the EU encourage Member States to invest in screening programme?
• The reporting of key findings such as level of investment and participation is crucial to monitor the performance of screening programmes, how can the EU institutions encourage MS to focus on reporting and what will the role of research be in understanding obstacles in programmes implementations?
• Early detection has been demonstrated to be cost-saving to the healthcare system. It is essential to ensure the sustainability of the screening efforts that health economic data are captured systematically to evaluate the cost-savings generated by the investment. How can the EU Institutions ensure that total health economic value is measured?
12:50
ALL
Discussion
Q&A
1:00
Catie Young
DiCE Communication Manager
#ECCAM2022 Awareness Campaign – The answer is: get screened!
END
Please contact us for any questions.