Launch of ECCAM 2018 at EU Parliament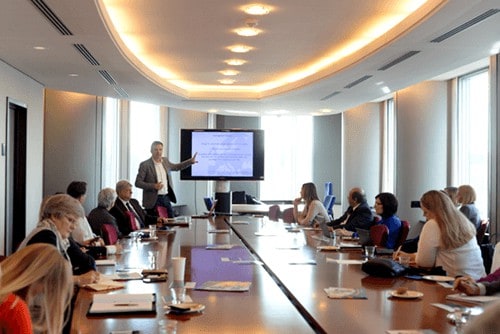 It is #Time4Change, say MEPs at Launch of ECCAM 2018
European Colorectal Cancer Awareness Month (ECCAM) 2018 was launched at an event at the European Parliament on February 28 with presentations from senior clinicians and MEPs.
The event signalled a milestone for ECCAM – 10 years since it was first established by EuropaColon, during which time an extraordinary amount has been achieved. But, as the presentations and speeches at the event made clear, there is still a long way to go, particularly in terms of implementing colorectal cancer screening across the European Union.
It is #Time4Change.
Dr Alfred Sant MEP, who hosted the event, outlined why awareness months like ECCAM are so important. "They serve as a forum to unite patients, healthcare professionals, politicians and the media with the aim to reduce the numbers of those affected by colorectal cancer," he said. "We can do this by ensuring access to the best screening, treatments, and care for all citizens." The goal is clear, he said: "That for all citizens in all EU member states, easy and affordable screening for colorectal cancer is made available."
In her address, MEP Lieve Wierinck, who has overcome her own battle with colorectal cancer, highlighted some of the human impact aspects of the disease. She emphasised the impact that colorectal cancer can have both on the body – for example if a stoma is needed – and the mind. "The struggle that patients go through can affect their psychological state," she said. "It is often difficult to go through these changes, and support in this area is therefore needed."
Other highlights from the event included:
Stefan Gijssels – a public affairs expert who has worked in the pharmaceutical industry and has also had his own battle against cancer – presented on "The value of new oncology drugs".  He said "The price of a drug is determined by its value, not by its costs" and makes the following recommendations:

There is still a high need for new treatments – so high-risk research should be encouraged
Patient involvement in Health Technology Assessment (HTA) must be strengthened to ensure that it is meaningful; more clarity and harmonisation are needed, with a long-term perspective on health and innovation
Price flexibility and more creative approaches must be introduced to increase access to medicines, and the system overall must be faster to allow quicker access
The system can only be sustainable with increased screening and early detection, high prices for high medical value, and low prices after loss of exclusivity.
Dr. Niek Klazinga from the OECD Paris presented on Patient Reported Outcomes and he confirmed that the OECD is committed to the further development and use of Patient Reported Outcome Measures (PROMS) and Patient Reported Experience Measures (PREMS) to assess value in health care. He advised ECCAM to assure the involvement of patients in standards containing PROMS and PREMS; that the data on PROMS and PREMS in cancer care are actually used for shared decision making; that they will contribute to embedding PROMS and PREMS data in regular data-systems and that they will contribute to international benchmarking.
Dr Julia Wilson from the Wellcome Sanger Institute in Cambridge presented on "Empowering personalised health through data sharing". The Institute seeks to make data: Findable; Accessible; Interoperable and Reusable. The institute is a member of the Global Alliance of Genomics and Health who by 2022 intend to make 10s of millions of genome sequences available from research / clinical care, spanning many nationalities and ethnicities, to accelerate research and improve patient outcomes!
ECICC – European Commission Initiative on Colorectal Cancer is a coordinated European action to reduce inequalities in Colorectal Cancer care. It is a person-centred initiative to improve and harmonise screening and care and to develop evidence-based guidelines for quality assurance scheme for healthcare services involved in the colorectal cancer care pathway. In 2018 it will be launching: a dedicated website; an online of the call for feedback on ECICC scope and a survey in 36 participating countries on current organisation of colorectal screening.
Look out for more news from ECCAM over the month ahead!
Click the links below to watch the summary videos from the conference on EuropaColon's official Youtube channel: