A Phase Ia/b study of MEK1/2 inhibitor PD-0325901 or MEK-162 with cMET inhibitor PF-02341066 in RASMT and RASWT (with abberant c-MET) in Colorectal Cancer Patients (MErCuRIC)
About MErCuRIC
MErCuRIC was a multicentre, investigator-driven phase Ib/II clinical trial to assess a novel therapeutic strategy (combined treatment of a MEK inhibitor MEK-162 with a MET inhibitor PF-02341066) to combat metastasis, improve survival and change current clinical practice for colorectal cancer (CRC) patients with RAS mutant (MT) and RAS wild-type (WT) (with aberrant c-MET) tumours. The project investigated using a novel treatment strategy targeting the biology of the disease and performed laboratory studies to identify CRC patient subgroups who might benefit most from the novel treatment strategy.
Find MErCuRIC promotional materials here.
Project Brochure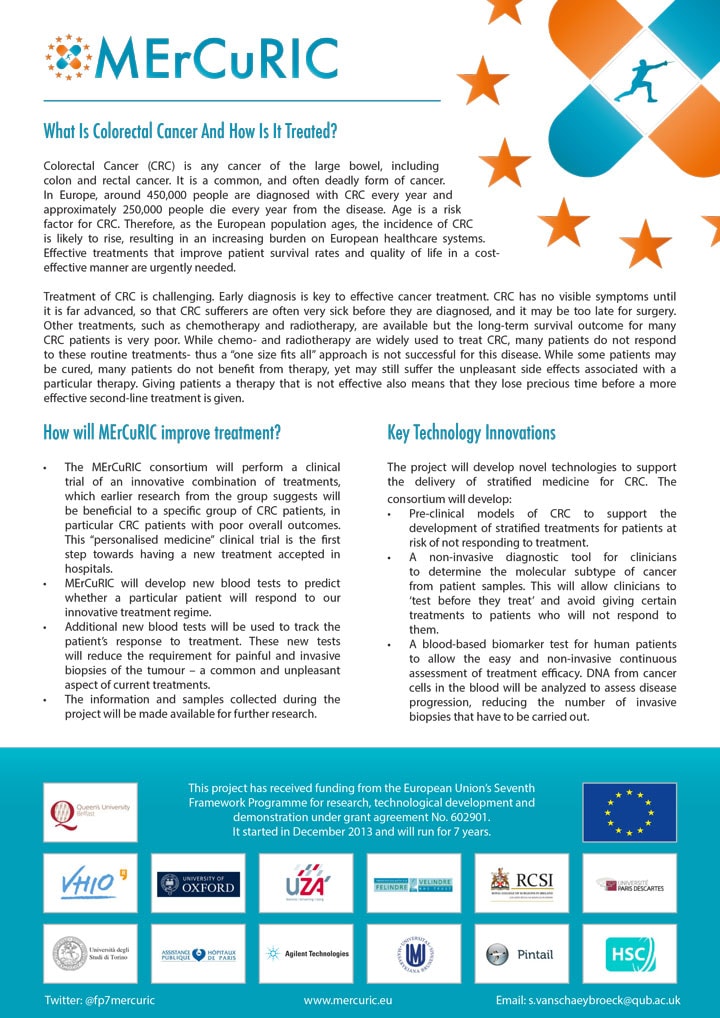 Our Partners
Queen's University Belfast
Vall d'Hebron Institute of Oncology
University of Oxford
Universita Degli Studi di Torino
Universitair Ziekenhuis Antwerpen
Velindre National Health Service Trust
Royal College of Surgeons in Ireland
Paris Descartes University
Assistance Publique – Hopitaux de Paris
Agilent Technologies
Masarykova Univerzita
Pintail Limited
Belfast Health and Social Care Trust
Our Sponsors
MErCuRIC is funded by the European Community's Framework Programme Seven (FP7) under contract #602901. The materials presented and views expressed here are the responsibility of the author(s) only. The EU Commission takes no responsibility for any use made of the information set out.