4th DiCE CRC Screening Summit
4th DiCE CRC Screening Summit
A Virtual Event
We express our gratitude to the distinguished speakers and all participants for their contributions to the success of the 4th CRC Screening Summit.
The event provided valuable insights into leveraging technology, such as AI, for effective colorectal cancer screening. Discussions emphasised the pivotal role of public engagement in national screening programs and highlighted the influence of demographic factors like sex and ethnicity on screening outcomes, essential considerations for program implementation across diverse regions.
The involvement of Members of the European Parliament (MEPs) underscored the significance of policy engagement in healthcare initiatives. Additionally, the perspectives shared on patient and citizen organisations reinforced the vital role of community involvement in shaping healthcare policies and decisions.
Professor Mārcis Leja's concluding remarks on utilising experiences from colorectal cancer screening to inform strategies for detecting stomach cancer in Europe presented an innovative approach to preventive healthcare.
The summit underscored collaborative efforts and the importance of inclusivity in advancing cancer screening practices. It emphasised the collective contribution toward informed health decisions.
The recording and presentations will be available soon!
09.00
Welcome
Eric Van Cutsem, Digestive Cancers Europe Co-Founder, Belgium

As co-founder of DiCE and renowned Professor of Clinical Digestive Oncology, Eric is the organisation's guiding voice on all medically relevant matters.

Dr Eric Van Cutsem, MD, PhD, is full professor and Division Head of Digestive Oncology at University of Leuven (KUL) and University Hospitals Gasthuisberg, Leuven, Belgium. He became in 2018 doctor honoris causa of the Medical University of Warsaw, Poland. He is Member of the Belgian Royal Academy of Medicine and president of the Belgian Foundation against Cancer.

He received several awards, amongst which were in 2019 the ESMO Award and the European Awards in Medicine for Cancer Research. His research focuses on the development of new diagnostic and treatment strategies for GI cancers. He published > 623 articles (Pubmed) and more than 1333 (Thomson Web of Science), leading to more than 85.000 citations and an H-factor of 133. In 2013, Capital magazine ranked him in the top 3 reputed colon cancer experts globally. Thomson Reuters ranks him in the top 1% for impact in his domain.

He co-founded ESMO GI/World Congress on Gastrointestinal Cancer, and is Chair of the meeting in Barcelona, Spain. He serves/served on the board or key committee of ESMO (executive board and several committees), ASCO (program committee and international affairs committee), EORTC (executive board and chair GI Cancer group), ), ENET (advisory board), ECCO (program committee), ESDO (president), UEG (Scientific Committee, public affairs committee), ESO (scientific committee), BGDO (Belgian Group Digestive Oncology), FAPA (Familial Adenomatous Polyposis Association) and of the patient advocacy groups, Europacolon and Digestive Cancers Europe (co-founder and executive board). He was chairman of the governmental colon cancer prevention task force in Flanders, Belgium.

Lieve Wierinck, Digestive Cancers Europe Chair of the Board, Belgium

Along with being a pharmacist and a former cancer patient, Lieve's career in politics means she applies her medical, patient and policy expertise to her work as Chair of the DiCE Board.

Lieve Wierinck was a Member of the European Parliament (ALDE – Liberal Democrats) until 2019. She was a member of the Committee on Industry, Research and Energy (ITRE). In that capacity, she strove to improve the innovation and competitiveness of Europe.

She was also a member of the informal groups "MEPs Against Cancer" (MAC), and the MEP Interest Group on the Patient Access Partnership (PACT). Earlier this year, Lieve Wierinck received the Parliament Magazine Award for the Best Health MEP.

Lieve was a member of the Belgian Parliament from 2011 to 2014. She was Chair of the National Women's Group of the Flemish liberal party (Open VLD) from 2014 till 2017. She was a member of the Municipal Council of Zaventem from 1994 to 2018, and also the Chair of the Local Public Welfare Office (OCMW) for twelve years.

She also worked as a pharmacist for 30 years in Zaventem. She is a colon cancer survivor.

09.13
Introduction
Deirdre Clune, Member of the European Parliament (EPP, Ireland), Member of IMCO and COVI Committees, Substitute in ENVI Committee

Deirdre Clune is a Member of the European Parliament for the constituency of Ireland South, having been elected in 2014 and re-elected in 2019. She is a full member of the Parliament's Committee on Internal Market and Consumer Protection and a substitute member of the Environment, Public Health and Food Safety.

Deirdre graduated from University College Cork in 1980, with a B.E. in Civil Engineering. She completed a diploma in Management Engineering with Trinity College Dublin in 1983. She returned to UCC in 1996 to complete her HDip in Environmental Engineering. Deirdre went on to work with some of the leading engineering firms both here at home and overseas, including Delap & Waller, Roughton & Partners and Arup.

Deirdre is a former member of the Dail Eireann (1997-2002, 2007-2011) and Seanad Eireann (2011-2014). She was elected Lord Mayor of Cork City in 2005, in which time the City was designated as the European Capital of Culture.

During her time in Leinster House, Deirdre was Deputy Spokesperson on Enterprise with the Special Responsibility for Innovation. She was also the Fine Gael spokesperson on Environmental Information and Protection, and Arts, Heritage, Gaeltacht and the Islands.

Deirdre's father, Peter Barry, was a Dáil Deputy for Cork constituencies between 1969 and 1997 and served as Tánaiste in 1987, Deputy Leader of Fine Gael between 1979 and 1987 and from 1989 to 1993. He was also a Minister for Foreign Affairs, the Environment, Transport & Power and Education.

Her Grandfather, Anthony Barry was a Dáil Deputy in the 1950's and early 1960s.

Deirdre became the third of her family to hold the mayoralty in Cork, following in the footsteps of her father, Peter who was Lord Mayor of Cork in 1970/71 and her late grandfather, Anthony who was Lord Mayor in 1960/61.

Elisabetta de Blasis, Member of the European Parliament (Italy)
Sara Cerdas, Member of the European Parliament (S&D, Portugal), Vice-Chair of MEP Digestive Health Group, Member of ENVI and COVI Committees

MEP Sara Cerdas is a politician from the Progressive Alliance of Socialists and Democrats (S&D), Portugal. Mrs Cerdas has been a member of the European Parliament since July 2019.

She is a member of the Parliament's Environment, Public Health and Food Safety Committee (ENVI). She is also vice-chair of the Beating Cancer Special Committee and co-Chair of the Health Working Group.

Her aim is to bring health to all policies and contribute to healthier and safer environments where people can enjoy better lifestyles. Her priorities are health accessibility, tackling the threat posed by non-communicable diseases and antimicrobial resistance as well as improving health literacy and education.

Cerdas holds a master's degree in Medicine from the University of Lisbon, a postgraduate degree in travel medicine from Universidade Nova de Lisboa, a master's degree in Public Health from the University of Umeå and is a doctoral student in Public Health Sciences from the University of Stockholm.

09.30
Panel 1: New technologies for CRC screening programs
Marco Spadaccini, Gastroenteorologist, Humanitas Hospital, Italy
09.40
Panel 1 discussion
Trine Ballestad Rounge, Professor, Section for Pharmacology and Pharmaceutical Biosciences, University of Oslo, Norway

Dr Rounge's research interest is in genomics, epigenomics, transcriptomics, microbiome research and development of cancer biomarkers.

Overall research goal of her group is to identify DNA and/or RNA patterns from tissue, bio fluids or associated microbes that reveals cancer progression at an early stage.
She has a broad background in bioinformatics and molecular biology.

Nastazja Dagny Pilonis, Researcher - Department of Health Economics and Health Management, University of Oslo, Norway
Carlo Senore, Piedmont Region Cancer Prevention Centre, University hospital Città della Salute e della Scienza, Italy

Carlo Senore has a medical degree from the University of Turin. He also completed his post-graduate degree there in Internal Medicine. Following this he gained a Master of Science, Epidemiology from McGill University in Montreal.

He currently runs the Piedmont Region Screening Program at the region's university hospital 'CPO Piemonte; AOU Città della Salute e della Scienza' in Turin. This is following extensive experience in public health particularly related to cancer screening programs.

Since 2004 he has been a member of the faculty at the University of Turin, Medical School lecturing in evidence based medicine as well as being a part of the post-doctoral School of Oncology there.

His research fields include:

Colorectal and breast cancer screening organisation and evaluation cancer screening compliance; comparative effectiveness of CRC screening strategies; health technology assessment; guidelines development; smoking prevention and control; cancer screening and healthy lifestyle promotion interventions (diet, physical activity and tobacco consumption).
Experience in design, implementation and analysis of randomized trials evaluating screening strategies, diagnostic technologies and primary prevention interventions, in the development of clinical guidelines and implementation of quality control projects aimed at assessing quality of treatment of colorectal cancer.

10.15
BREAK
10.25
Panel 2: Citizens Preferences in CRC Screening
Christian Von Wagner, Senior Lecturer in Behavioural Research in Early Diagnosis of Cancer, Health Behaviour Research Centre, Department of Epidemiology & Public Health, UCL, UK

Dr Christian von Wagner is a Reader in Behavioural Research of Early Diagnosis of Cancer at the Health Behaviour Research Centre, UCL.

He is working on research into the social and psychological determinants of uptake of the NHS Bowel Cancer Screening Programme. His other research interests patient experience of bowel cancer screening and diagnostic tests. His other research interests include patient decision making and preferences, health literacy and cancer communication.

10.35
Panel 2 discussion
Wessel van de Veerdonk, Research Coordinator / Epidemiologist at Thomas More University of Applied Sciences, Belgium

Wessel is an epidemiologist (PhD) and research coordinator at the Thomas More University of Applied Sciences and is affiliated to the Social Epidemiology and Health Policy research department of the University of Antwerp.

Wessels research focusses on prevention in the health and care sector specifically targeting vulnerable people in society to combat the existing health inequity in healthcare and combat new introductions of health inequity for vulnerable populations. Wessels passion in (CRC) research is all about practical application and implementation to positively impact inequity, low-health literacy and develop tools to help practice to better serve vulnerable populations.

Jean-Luc Bulliard, Head of Sector Epidemiology and Public Health Data Science at Centre for Primary Care and Public Health University of Lausanne Switzerland

Jean-Luc Bulliard is a senior epidemiologist (PhD) and biostatistician by training. He leads the Sector Epidemiology and Public Health Data Science at the Centre for Primary Care and Public Health (Unisanté), Lausanne University, Switzerland.

He has extensive experience in cancer epidemiology and prevention, particularly in implementation, modelling, and evaluation of breast and colorectal cancer screening programmes. Member of international steering committees on cancer prevention (IARC, ICSN), his current screening-related research fields include personalized (risk-based) screening, compliance and performance indicators, overdiagnosis, risk prediction and communication.

He has contributed to the development of quality-controlled breast and colorectal service screening, and the implementation of pilot lung cancer screening in Switzerland. He also teaches at the Lausanne and Geneva Medical Schools and is the scientific Head of the Neuchâtel-Jura population-based cancer registry.

Andre Carvalho, Senior Scientist, Early Detection Prevention & Infections, AIRC, France

Dr. Andre Carvalho is a senior scientist at the Prevention and Screening Branch of the International Agency for Research on Cancer (IARC/WHO).

He has obtained his MD in Brazil, and has PhD in Oncology from University of Sao Paulo, Brazil, a and a MPH from University of Washington, USA. Dr Carvalho's main interest is to work on implementation science and building capacity as tools to improve cancer control and quality asssurance, particularly in resource-limited settings.

Hadly Clark, Associate Director at FasterCures, Milken Institute

Hadly Clark, is an experienced healthcare professional focused on the intersection of health and technology. Currently at FasterCures of the Milken Institute, she leads oncology-focused initiatives exploring innovative screening technologies and anti-cancer treatments.

Most recently, she led a patient focus group that examined patient insights and preferences of novel screening and early-detection technologies. In addition to her work in oncology, she explores the use of patient-generated data to accelerate biomedical research including removing barriers to access and establishing good stewardship of patient data.

Previously, at the American Society of Clinical Oncology (ASCO) Hadly oversaw the operational development of clinical quality measures supporting quality improvement programs for ASCO's patient registry and value-based reimbursement under the Quality Payment Program (QPP). Before joining ASCO, she worked at Compass Professional Health Services (now Alight), guiding patients to low-cost, high-quality providers and analyzing claims data to identify key trends in healthcare consumer behavior to predict future consumption and health outcomes.

Hadly has 10+ years of experience as a dedicated patient advocate helping people navigate through the complex often opaque U.S. health system. She also serves on the Prevent Cancer Foundation's Innovation Council where she advises on innovative cancer screening technologies. She holds a Master's of Science in health systems administration from Georgetown University's School of Health.

11.15
Panel 3: Individualizing CRC screening by sex and ethnic groups
Esther Toes - Zoutendijk, Post Doctoral Researcher at Erasmus MC, The Netherlands

Esther is a trained epidemiologist and currently works as an assistant professor at the Department of Public Health at Erasmus MC in Rotterdam, the Netherlands.

She focuses on monitoring and evaluating the nationwide colorectal cancer screening programme to inform policy makers about the short- and long-term effects of the screening programme and areas for improvement.

She is currently actively involved in the PERFECT-FIT study: a nationwide RCT on the effectiveness of personalised colorectal cancer screening. She is also conducting a study focusing on the overlooked population (transgender and non-binary people) in breast and cervical cancer screening programmes. She is a member of the Expert Working Group on Medical Interventions as part of the European Code Against Cancer 5 (ECAC-5).

Panel 3 & discussion
Johannes Blom, Director of the Cancer Prevention and Screening at the Department of Clinical Science and Education, Karolinska Institutet, Stockholm, Sweden

Dr. Johannes Blom is a consultant surgeon and associate professor leading the research group Cancer prevention and screening at the Department of Clinical Science and Education, Karolinska Institutet, Stockholm, Sweden.

Dr. Blom qualified as medical doctor in 1998, was specialist in general surgery in 2005 and defended his thesis regarding a pilot of population-based colorectal cancer screening with sigmoidoscopy in 2008. Parallel to his clinical work, dr. Blom has continued his colorectal cancer screening research evaluating the screening program of the Region of Stockholm-Gotland. He presently works with cancer risk prediction and individualization of both population-based screening and with surveillance of patients with inflammatory bowel disease.

Dr. Blom was co-author of the Guidelines for Quality Assurance in Colorectal Cancer Screening and Diagnosis by the European Commission in 2011 and, in 2018, Chair of Endoscopy in the Handbook Volume 17 – Colorectal cancer screening, by the International Agency of Research on Cancer (IARC), Lyon, France. Since 2017, dr. Blom is a member of the Expert council of the Swedish Cancer Society and from 2019 a member of the collaborative research board of Region Stockholm and Karolinska Institutet. In 2019, he was appointed by the Government to represent the healthcare sector in the Scientific Council for Medicine and Health at the Swedish Research Council.

Isabel Portillo, Colorectal Cancer Screening Coordinator, The Basque Health Service, Biobizkaia Basque Health Research, Spain

Doctor Specializing in Preventive Medicine, PhD Social Psychology.

Coordinator since 2009 of the Basque Country Colorectal Cancer Screening, including plan, organization, quality control and evaluation. Leader and collaborator in international, national and regional researches related to Colorectal Cancer assessment, randomized control trials and innovation projects.

Callum Fraser, Population Health and Genomics, University of Dundee, Ninewells Hospital and Medical School, Dundee, Scotland

Callum G Fraser is currently Senior Research Fellow and Honorary Professor in the School of Medicine, University of Dundee.

He graduated BSc and PhD in the University of Aberdeen. Following post-doctoral work with the National Research Council of Canada, he has worked in laboratory medicine in tertiary care teaching hospitals in Scotland (Aberdeen and Dundee) and Australia (Flinders Medical Centre, Adelaide) for over 50 years.

He has published over 400 papers and articles, 14 book chapters, and two monographs, both translated into Spanish, and the second also into Italian, Japanese, Russian, and Turkish. Over the last 25 years, he has been involved in the setting up of the UK Colorectal Cancer Screening Pilot, the development and roll-out of the Scottish Bowel Screening Programme, and the assessment and application of newer faecal tests.

He is a founding Member of the Expert Working Group on Faecal Immunochemical Tests for Screening of the Colorectal Cancer Screening Committee, World Endoscopy Organization. He has been honoured by, inter alia, the Foundation Award and Honorary Membership of the Association for Clinical Biochemistry and Laboratory Medicine and the European Federation of Clinical Chemistry and Laboratory Medicine 2017 award for his achievements.

12.00
New EU Screening Recommendations. Gastric Cancer Screening
Mārcis Leja, Professor of Medicine, Director of the Institute of Clinical and Preventive Medicine, University of Latvia, Head of the Dept. of Research, Riga East University Hospital, Latvia

Mārcis Leja is a Professor of Medicine at the Faculty of Medicine and Director of the Institute of Clinical and Preventive Medicine, University of Latvia and a consulting gastroenterologist at the Digestive Diseases Centre, Riga, Latvia. He has served as a member of the European Cancer Mission Board from 2019 to 2021; currently is a member of the Research Committee of United European Gastroenterology (UEG) and the European Helicobacter and Microbiota Study Group (EHMSG) as well as a fellow of Latvia Academy of Science and American Gastroenterological Association (AGA).

His main research interests include screening, prevention and early detection of cancer, in particular - gastrointestinal cancer.

Since 2013 the group led by Dr Leja is conducting a randomised gastric cancer prevention study GISTAR (www.gistar.eu); the study is managed in close cooperation with the International Agency for Research on Cancer (IARC). As for now, the study has recruited more than 11,000 generally healthy individuals to be followed up for the risk of cancer. Recently (2023) a project "Towards gastric cancer screening implementation in the European Union" has been launched and will be coordinated by Dr Leja.

The related interests of Dr Leja include the use of volatile organic marker (VOC) diagnostic concept in gastrointestinal cancer detection, the role of microbiota in health and disease as well as the use of large data and AI for prevention and early detection.

Dr Leja has developed an extensive collaboration in the field of early gastric cancer detection and prevention in the EU and beyond involving countries like U.K., Ukraine, Belarus, Russia, Kazakhstan, Kirgizstan, the US (National Cancer institute, Vanderbilt University), Brazil, Colombia, Chile, Taiwan and China.

Dr Leja is author of more than 200 research publications (of those at least 140 Scopus or WoSCC), 6 book chapters.

12.20
The role of patient organisations and citizen groups in shaping the way forward
Zorana Maravic, CEO Digestive Cancers Europe, Belgium

A part of Europacolon and now DiCE since 2012, Zorana has always worked closely with our Full Members and Associate Members. With grace, poise and calm, she is working to help Members' organisations and DiCE grow.

As CEO, Zorana continues her commitment to DiCE taking on the management of the organisation and ensuring the delivery of its missions and goals. In her past role as Director of Operations she was responsible for the co-ordination and support of Member groups, as well as strengthening the network, through establishing relationships with new organisations. During this she has proven her capacity to deliver successfully. Key projects have included:

A Survey on the Unmet Needs of Patients Living with Metastatic Colorectal Cancer (mCRC). She recruited more than 800 patients and had the results under her authorship published widely
DiCE events: Masterclass events – an educational annual meeting for Member groups
Awareness campaigns including European Colorectal Cancer Awareness Campaigns (ECCAM)
Pharmaceutical industry and independent consortia projects
Developing patient support materials with the Patient Advisory Committee (PAC)

Zorana also acts as a public speaker on topics such as patient support, biosimilars and CRC screening. From 2016 until 2018, Zorana served as a Board Member of EuropaColon.

Before working in the Not-For-Profit sector, Zorana worked for 10 years in the pharmaceutical industry, primarily in sales and marketing of innovative oncology drugs as well as on oncology clinical trials.

She holds a degree in molecular biology from the University of Belgrade, Serbia. In 2017, at the University of Sheffield, UK she gained an Executive MBA in Health Management.

12.25
Conclusion
12.30
End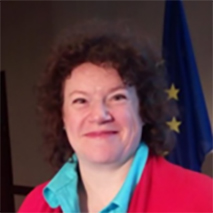 Tamsin Rose is a facilitator, speaker and trainer with an interest in sparking new ideas to address big societal challenges.
With three decades of experience in communications, and advocacy and network building, her clients range from small non profits to international institutions and everything in between.
She has led a European platform of public health NGOs, managed an EU programme to twin cities in west and eastern Europe, was a radio journalist and now connects citizens' experiences with the Brussels policy bubble.