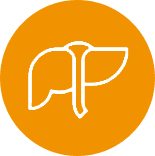 In a small percentage of cases, liver cancer is small enough, and diagnosed early enough, to have surgery to remove the tumour completely. However, surgery is a major undertaking and recovery from surgery to treat liver cancer can take a long time.
Unfortunately, surgery is only possible in a minority of cases. Very often, the cancer is too advanced for surgery or the liver is not strong enough to support it. The liver's complex network of blood vessels and bile ducts also makes surgery difficult.
A liver transplant is also a potential option. This is decided following an assessment to see if it is a suitable course of action. If the decision is made to go ahead, you would be put on a waiting list for liver donors.
Although success rates are higher today than ever before, transplantation is still very complex and remains a treatment rather than a cure. To prevent rejection of the new liver, you will need to take anti-rejection medication, called immunosuppressants, for the rest of your life.
By blocking your body's natural defences, immunosuppressants can make you more vulnerable to infections. This means taking extra care not to pick up infections, for example by avoiding people who are unwell and washing your hands often. Your doctor will provide detailed guidance.