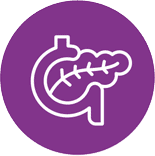 Pancreatic Cancer Treatments
Many new potential therapies for pancreatic cancer are being studied in clinical trials.
Trials give patients the opportunity to receive a promising investigational drug or treatment.
If you are potentially interested in participating in clinical trials, speak to your specialist nurse or oncologist, who will be able to let you know which trials are currently being undertaken in your specialist centre and whether you would be eligible to participate.