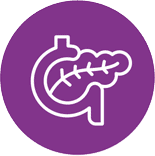 One of the biggest challenges with diagnosing pancreatic cancer at an early stage is that signs and symptoms of pancreatic cancer often don't occur until the disease is advanced,18 and when symptoms do appear, they may be easy to confuse with those of other illnesses.
Symptoms of pancreatic cancer?
The most common symptoms of pancreatic cancer are:
Unexplained weight loss
Abdominal pain and/or back pain
Abdominal distension
Feeling bloated or full
Jaundice
Bowel problems
Sudden onset diabetes
Depression
Deep vein thrombosis
Indigestion/heartburn/nausea and vomiting
Fever and shivering
Dysphagia (swallowing difficulties)
Loss of appetite
Extreme tiredness/fatigue
Unexplained acute pancreatitis (inflammation of the pancreas)
Stools that are large, pale, smelly and float
Do see your doctor if you have any of these symptoms, especially if you are at a higher risk of developing pancreatic cancer.