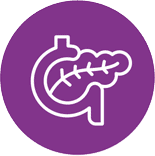 Risk Factors and Prevention
A risk factor is anything that increases your chance of getting a disease. Different cancers have different risk factors. There are risk factors related to lifestyle (i.e. ones you can do something about) and risk factors that you cannot control.
Risk factors for pancreatic cancer that can be controlled include: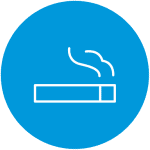 Smoking
Smoking increases risk of all types of cancer. About 25% of pancreatic cancers are thought to be caused by cigarette smoking.5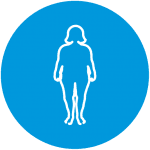 Obesity
Obese people (body mass index [BMI] of 30 or more) are about 20% more likely to develop pancreatic cancer.5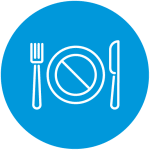 Diet
Researchers have found that diets high in long-chain saturated fats – such as those in red meat and processed foods – promote the growth of pancreatic cancer – independent of obesity.6 Low intake of fruit and vegetables is also thought to be a risk factor.
Heavy alcohol consumption
Around 7 out of 10 cases of chronic pancreatitis are due to long term heavy drinking.7
Risk factors for pancreatic cancer that you cannot control include: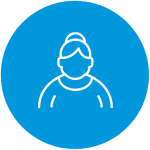 Ageing
Like most cancers, pancreatic cancer is much more common as people get older. In fact, 90% are older than 55 and 70% are older than 65.8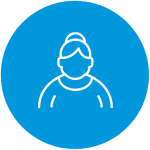 Type-2 diabetes mellitus
Long-term type 2 diabetes mellitus is associated with a 1.5- to 2.0-fold increase in the risk of pancreatic cancer.9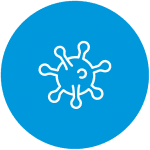 Hepatitis B virus
Hepatitis B infection may increase the risk for pancreatic cancer up to 24%.10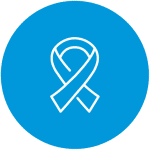 HIV or hepatitis C
People with HIV and people with HCV are at 2.8 times higher risk of developing pancreatic cancer compared to people who test negative for these viruses.11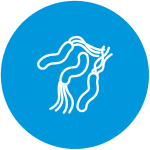 Helicobacter pylori
There is data indicating modestly increased pancreatic cancer risk in H. pylori-positive patients.12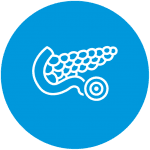 Chronic pancreatitis
Pancreatitis the inflammation of the pancreas. It is typically a painful pancreatic disease, which significantly increases the risk of pancreatic cancer.13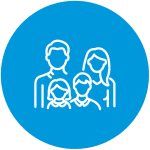 Family history of cancer, particularly pancreatic cancer
About 5-10% of patients with pancreatic cancer have another close relative who has also developed pancreatic cancer. Individuals with a family history of pancreatic cancer are more likely to have an inherited mutation in a gene that increases their risk of developing pancreatic cancer.14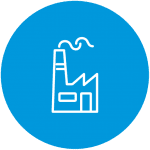 Exposure to certain chemicals
Exposure to certain chemicals, such as pesticides, benzene, certain dyes, and petrochemicals, may increase the risk of developing pancreatic cancer.15
Conversely, a reduced risk of pancreatic cancer has been associated with asthma and nasal allergies.16 Studies have shown that the risk of pancreatic cancer is lowest among individuals with blood type O.17
Because several of the risk factors listed above are related to lifestyle, there are ways to reduce risk of pancreatic cancer. These include consuming a healthy nutritional diet, practice physical activity, taking care of your mental and emotional health and limiting alcohol and tobacco use.
Of course, healthy living is not a cast-iron guarantee against cancer, but it lowers the risk of developing the disease and it is something that you can fully control.
5. ACS 2021. Pancreatic Cancer Risk Factors. Available from : https://www.cancer.org/cancer/pancreatic-cancer/causes-risks-prevention/risk-factors.html#:~:text=Smoking%20is%20one%20of%20the,be%20caused%20by%20cigarette%20smoking.
6. Liu, Y., Deguchi, Y., Wei, D. et al. Rapid acceleration of KRAS-mutant pancreatic carcinogenesis via remodeling of tumor immune microenvironment by PPARδ. Nat Commun 13, 2665 (2022). https://doi.org/10.1038/s41467-022-30392-7
7. CRUK, 2021. Pancreatic Cancer. Risks and causes. Available from: https://www.cancerresearchuk.org/about-cancer/pancreatic-cancer/risks-causes
8. ASCO. Cancer.net Pancreatic cancer risk factors. Available from: https://www.cancer.net/cancer-types/pancreatic-cancer/risk-factors#:~:text=The%20risk%20of%20developing%20pancreatic,cancer%2C%20as%20can%20children%20rarely.
9. Li D. Diabetes and pancreatic cancer. Mol Carcinog. 2012;51(1):64-74. doi:10.1002/mc.20771
10. Hassan MM, Li D, El-Deeb AS, Wolff RAet al. Association between hepatitis B virus and pancreatic cancer. J Clin Oncol. 2008 Oct 1;26(28):4557-62. doi: 10.1200/JCO.2008.17.3526. PMID: 18824707; PMCID: PMC2562875.
11. Darvishian M, Butt ZA, Wong S, Yoshida EM, Khinda J, Otterstatter M, Yu A, Binka M, Rossi C, McKee G, Pearce M, Alvarez M, Wong J, Cook D, Grennan T, Buxton J, Tyndall M, Woods R, Krajden M, Bhatti P, Janjua NZ. Elevated risk of colorectal, liver, and pancreatic cancers among HCV, HBV and/or HIV (co)infected individuals in a population based cohort in Canada. Ther Adv Med Oncol. 2021 Feb 11;13:1758835921992987. doi: 10.1177/1758835921992987. PMID: 33633801; PMCID: PMC7887683.
12. Kunovsky L, Dite P, Jabandziev P, Dolina J, Vaculova J, Blaho M, Bojkova M, Dvorackova J, Uvirova M, Kala Z, Trna J. Helicobacter pylori infection and other bacteria in pancreatic cancer and autoimmune pancreatitis. World J Gastrointest Oncol. 2021 Aug 15;13(8):835-844. doi: 10.4251/wjgo.v13.i8.835. PMID: 34457189; PMCID: PMC8371525.
13. NICE 2020. Pancreatitis NICE guideline [NG104]Published: 05 September 2018 Last updated: 16 December 2020. Available from: https://www.nice.org.uk/guidance/ng104/chapter/Context
14. John Hopkins, 2021. About familial pancreatic cancer. Available from: https://pathology.jhu.edu/pancreas/familial/about
15. Antwi SO, Eckert EC, Sabaque CV, Leof ER, Hawthorne KM, Bamlet WR, Chaffee KG, Oberg AL, Petersen GM. Exposure to environmental chemicals and heavy metals, and risk of pancreatic cancer. Cancer Causes Control. 2015 Nov;26(11):1583-91. doi: 10.1007/s10552-015-0652-y. Epub 2015 Aug 21. PMID: 26293241; PMCID: PMC4624268.
16. Gomez-Rubio P, Zock JP, Rava M, et al. PanGenEU Study Investigators. Reduced risk of pancreatic cancer associated with asthma and nasal allergies. Gut. 2017 Feb;66(2):314-322. doi: 10.1136/gutjnl-2015-310442. Epub 2015 Dec 1. PMID: 26628509.
17. Wolpin BM, Chan AT, Hartge P, et al. ABO blood group and the risk of pancreatic cancer. Journal of the National Cancer Institute. 2009; 101:424-431