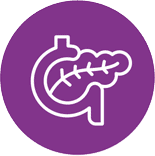 Pancreatic Cancer Treatments
The type of treatments that will be offered to you will depend on the stage and location of your cancer. Your age and general health will also be taken into account.
Treatments for pancreatic cancer
Defining the right treatment strategy for each patient with pancreatic cancer requires a specialised multidisciplinary team that includes: surgeons, medical oncologists, gastroenterologists, radiation therapists, radiologists, and supportive and palliative care specialists.19
Your doctor(s) will advise you on the best approach to take. Treatments for pancreatic cancer may include any one of the following or in some cases in different combinations.
Surgery
Chemotherapy
Radiation therapy
Immunotherapy
Targeted therapyClinical trials
You will have regular check-ups, tests and scans during and after any treatments to see how you are progressing.
19. Ducreux M, Cuhna AS, Caramella C, Hollebecque A, Burtin P, Goéré D, Seufferlein T, Haustermans K, Van Laethem JL, Conroy T, Arnold D; ESMO Guidelines Committee. Cancer of the pancreas: ESMO Clinical Practice Guidelines for diagnosis, treatment and follow-up. Ann Oncol. 2015 Sep;26 Suppl 5:v56-68. doi: 10.1093/annonc/mdv295. Erratum in: Ann Oncol. 2017 Jul 1;28(suppl_4):iv167-iv168. PMID: 26314780.