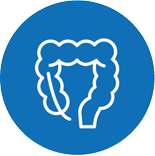 Colorectal cancer, also known as bowel cancer, develops in the colon or the rectum (the large bowel or the large intestine).
Compare country data about colon cancer (prevalence, screening, public health plans and much more) in our DataMap.
With almost 1.4 million new cases of colorectal cancer each year worldwide it presents 9.7% of the total global cancer cases. The increase in the number of cases is driven by population growth and ageing as well as poor diet and lifestyle.

Go to our information center about colorectal cancer by clicking on the above links.
Please confirm if you accept our tracking cookies. When declining the cookies, you can continue visiting the website without sending data to third party services. Read our complete
cookie statement here
.