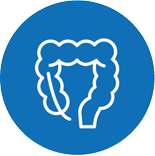 Living with colorectal cancer
Being told you have cancer can be very difficult. It is likely you will feel a range of emotions. There is no right or wrong way to react or feel. What is important is to get the support you need, whether that is practical or emotional support.
Living with colorectal cancer
With any challenge, a good first step is being able to understand your fears and talk about them. It is important to be open with people close to you: your spouse, children, parents and friends. Share your emotions and allow them to share their emotions and ideas too. They want to help. Effective coping requires understanding the challenge you are facing, thinking through solutions, asking for and allowing the support of others, and feeling comfortable with the course of action you choose.
Talking with your doctor about any concerns you may have is an important part of your follow-up care especially if a challenge is holding you back from enjoying your life.
It can also be useful to talk to people who are going through the same thing. The good news is that there are patient support groups available. You can contact one of our Member patient organisations in your country or please reach out to us and we will introduce you to your closest patient group.
If your cancer cannot be cured
Unfortunately, when cancer has advanced, it can be very hard to treat, and may not be possible to cure. If this is the case, the main aim of treatment will be to help you live as long and as comfortably as possible.
This is known as palliative care. You will be looked after by doctors and nurses who specialize in palliative care. Finding out the cancer cannot be cured can be very difficult. The palliative care team will help you and your loved ones get the support you need.