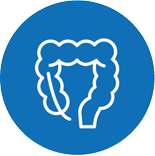 Colorectal Cancer (Bowel Cancer) Treatments
Immunotherapy is a new and exciting type of cancer treatment. Its role in digestive cancers, including colorectal cancer, has been promising, especially in advanced disease.
The general principal of immunotherapy relies on increasing the response of the immune system, the system that helps the body fight infections and foreign cells such as cancer cells.
In Europe, the only immunotherapy drug approved so far for colorectal cancer is pembrolizumab, which is used alone (monotherapy) as first‑line treatment for some types of metastatic colorectal cancer with a specific molecular profile.
Pembrolizumab is indicated for use in patients with metastatic microsatellite instability-high (MSI-H) or mismatch repair deficient (dMMR) colorectal cancer. MSI-H/dMMR can occur when a cell is unable to repair mistakes made during the division process. MSI-H/dMMR can be hereditary or random. About 5% of patients with metastatic colorectal cancer have MSI-H or dMMR tumours.