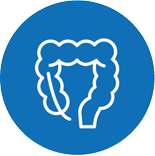 Colorectal Cancer (Bowel Cancer)
Treatment options for patients with colorectal cancer have advanced greatly in recent years, and it is very important to be well informed as there are probably several options available to treat your cancer.
Please note that your clinician will advise you on the best approach to take. Treatments for colorectal cancer may include any one of the following or in some cases in different combinations.
You will have regular check-ups, tests and scans during and after any treatments to see how you are progressing.
Overview of treatment of colon cancer by stage
| | | |
| --- | --- | --- |
| STAGE GROUP + TNM | LOCATION | TREATMENT |
| Stage 0 (Tis N0 M0) | Tumour has not grown beyond the Inner lining of the colon. | Colonoscopy: Local excision or simple polypectomy. Surgery to remove the larger lesions not amenable to local excision. |
| Stage I (TI-2 NO MO) | Tumour has grown deeper into the layers of the colon wall, but it has not spread outside the colon wall Itself or Into the nearby lymph nodes. | Surgery to remove the section of colon that has cancer and nearby lymph nodes. No adjuvant chemotherapy needed. |
| Stage II (2) A, B, C (T3 N0 M0, T4 a-b N0 M0) | Tumour has grown through the wall of the colon, and maybe into nearby tissue, but they it has not spread to the lymph nodes. | Surgery to remove the section of colon that has cancer and nearby lymph nodes. Following surgery, the need for adjuvant therapy should be discussed with your physician based on a risk of relapse assessment. |
| Stage III (3) (Any T, N1-N2, M0) | Tumour has spread to nearby lymph nodes, but has not as yet spread to other parts of the body. | Surgery to renew the section of colon that has cancer and nearby lymph nodes. Followed by adjuvant chemotherapy. |
| Stage IV (4) (Any T, any N, M1) | Tumour has spread from the colon to distant organs and tissues. Most often the spread is to the liver but it can also spread to the lungs, brain, peritoneum (the lining of the abdominal cavity) or to distant lymph nodes. | Surgery is mostly unlikely as the cancer has spread to distant organs (liver, lungs…). Chemotherapy and biological targeted therapy (The choice of regimens depends on several factors). Participation in a Clinical Trial. |
Overview of treatment of rectal cancer by stage
| | | |
| --- | --- | --- |
| STAGE GROUP | LOCATION | TREATMENT |
| Stage 0 (Tis N0M0) | Turnout has not grown beyond the inner lining of the rectum. | Via a colonoscopy: Local excision or simple polypectomy (removing the polyp) |
| Stage I (TI-2 N0 M0) | Tumour has grown Into the deeper layers of the rectal was but has not spread outside the rectum Itself. | Small stage I tumours: Transanal resection or Transanal Endoscopic. Microsurgery (TEM): tumour can be removed through the anus without opening the abdomen. Other stage I tumours: depending on exactly where the tumour is located within the rectum: a low anterior resection (LAR) or a proctectomy with colo-anal anastomosis or an abdominoperineal resection (APR). The need for additional treatment (chemotherapy + radiotherapy) should be discussed with your physician. |
| Stage II (2) (T3 N0 M0, T4 a-b N0 M0) | Tumour has grown through the wall of the rectum and might extend into nearby tissues. It has not spread to the lymph nodes | Treatment with chemotherapy + radiotherapy and/or surgery. |
| Stage III (3) (Any T, N1-N2, M0) | Tumour has spread to nearby lymph nodes but not to other parts of the body. | Treatment with chemotherapy + radiotherapy and/or surgery. |
| Stage IV (4) (Any T, any N, M1) | Tumour has spread to distant organs and tissues such as the liver or lungs. | Surgery is mostly unlikely. Chemotherapy and biological targeted therapy (The choice of regimens depends on several factors). Participation in a Clinical Trial. |