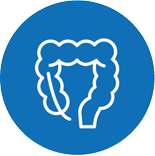 Colorectal Cancer (Bowel Cancer)
Early Onset Colorectal Cancer
The most common symptoms described in early-onset CRC are:
Abdominal pain
Rectal bleeding
Weight loss
Change in bowel habits.
Most patients with early-onset CRC present with symptoms when compared with patients with late-onset colorectal cancer, that are three times more likely to be diagnosed, incidentally.1 Studies have found that patients with early-onset CRC experience symptoms for a longer duration of time (243 vs 154 days) and have a longer delay from symptom onset to diagnosis (152–217 vs 29.5–87 days).2

1. Cathy Eng, Alexandre A Jácome, Rajiv Agarwal, Muhammad Hashim Hayat, Mariana X Byndloss , Andreana N Holowatyj , Christina Bailey , Christopher H Lieu A comprehensive framework for early-onset colorectal cancer research Lancet Oncol . 2022 Jan 25;S1470-2045(21)00588-X. doi: 10.1016/S1470-2045(21)00588-X.
2. Chen FW, Sundaram V, Chew TA, Ladabaum U. Advanced-stage colorectal cancer in persons younger than 50 years not associated with longer duration of symptoms or time to diagnosis. Clin Gastroenterol Hepatol 2017; 15: 728–37.