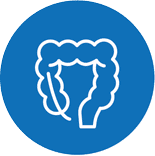 Diagnosed with Colorectal Cancer?
Finding out more about CRC, what stage you are at and what the first steps are to consider.
You have recently been diagnosed with colorectal cancer (CRC).

The diagnosis of colorectal cancer is based on the examinations that you will have undertaken (colorectaloscopy, clinical, radiological and laboratory investigations).

You might have a lot of questions, looking for answers…: What is it? Will I die or survive? Can I survive? What are treatment options? How long will I need treatment?  There is the 'uncertainty', that can make you feel emotional and frightened.

The diagnosis and treatment approach of colorectal cancer has changed a lot and with today's modern treatment it is possible to live with CRC. Some even define it as a chronic disease.

You will find many medical words in the next chapters. Words that you may not know are defined in the text or in the dictionary. Do ask your oncologist or nurse to explain a word or phrase that you don't understand or if you need more information.

These chapters include information for many patients however keep in mind that you are unique, so talk to your physician to point out what applies to you.
Please confirm if you accept our tracking cookies. When declining the cookies, you can continue visiting the website without sending data to third party services. Read our complete
cookie statement here
.