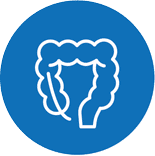 Information about surgery, personalised treatment options and side effects.
Biologic Medicines and Biosimilars

Biologic medicines have revolutionised patient treatment by offering new and effective medicines for acute and chronic conditions including neutropenia (lack of specific part of white blood cells) cancer and a wide range of other diseases. As the patent expires for individual originator medicines, biosimilar medicines can be introduced to provide additional options for patients.

Biosimilar medicines

These have been used across Europe for many years as treatments for growth hormone replacement, neutropenia and anemia (low hemoglobin) related to chronic kidney failure or cancer. Further biosimilar medicines for cancer treatment (including treatment for metastatic colorectal cancer) are in development or under review for approval as originator biological medicines come off patent.

What is a biologic medicine?

Biologic medicines are derived from living cells or organisms and consist of large, highly complex molecular entities which may be difficult to characterise. Due to the variability of the biological system and the manufacturing process, biologic medicines may show a certain degree of variation even between batches of the same product.

What is a biosimilar medicine?

A biosimilar medicine is a biologic medicine that is developed to be highly similar and clinically equivalent to an existing biologic medicine. A biosimilar contains a version of an active substance of an already approved biologic medicine which is referred to as the 'reference medicine' or 'originator medicine'.

Similarity to the reference medicine in terms of quality, structural characteristics, biological activity, safety and efficacy must be established based on a comprehensive scientific comparability exercise such that they do not have any clinically meaningful differences from the reference medicine in terms of quality, safety and efficacy.

Biosimilar medicines are not the same as generic medicines which contain simpler chemical structures and are identical in terms of molecular structure to their reference drugs.

How are biosimilars medicine authorised for use in Europe?

Biosimilars are approved according to the same standards of pharmaceutical quality, safety and efficacy that apply to all biological medicines. The European Medicines Agency (EMA) is responsible for evaluating the majority of applications to market biosimilars in the European Union (EU). The resulting marketing authorisation, issued via a decision by the European Commission, is valid in all EU Member States.

The evidence acquired over ten years of clinical experience shows that biosimilars approved through EMA can be used as safely and effectively in all their approved indications as other biological medicines.

Ask your physician about the availability and usage of biosimilars in your treatment centre.

You can also watch this video on biosimilars produced by EMA. The video is available in eight European languages.
Please confirm if you accept our tracking cookies. When declining the cookies, you can continue visiting the website without sending data to third party services. Read our complete
cookie statement here
.