100 Participants Share Insights at 2nd Colorectal Cancer Screening Summit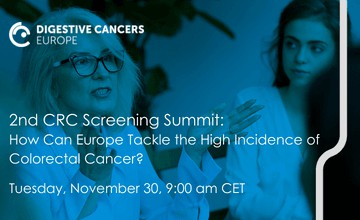 In November, as the European Commission publishes its Europe Beating Cancer Plan: Implementation Roadmap, 100 experts, policy makers and patient representatives came together today at the Digestive Cancers Europe 2nd Colorectal Cancer Screening Summit. The topic for discussion was – how can we make sure the update of the EU council screening recommendations, resulting from the Roadmap and planned for official publication at the beginning of next year, become effective CRC screening reality that helps save many lives across Europe?
In this context, screening experts identified the following key points related to the success of national programmes:
The need for the implementation of an organizational infrastructure supporting multidisciplinary collaboration among public health and healthcare professionals
Establishing a monitoring system of programme performance
Understanding the reasons of non-participation to ensure the best possible reach of the population
Policy solutions such as increases in funding and the involvement of all stakeholders.
The impact of the Covid-19 pandemic was also examined with experts reflecting on success stories from The Netherlands, Finland and the Basque Region in Spain.
They spoke of how, despite Covid-19, the programme in the Netherlands was able to adapt and get back on schedule after the first wave of the pandemic. The Finnish programme had a similar learning experience and was able to start again after a two month pandemic related delay.
The most important actions for the Screening programme implementation in the Basque region during the pandemic have been:
Working on a decrease in the barriers to participation
Establishing and reaching a consensus on prioritising screening colonoscopies after a positive Faecal Immunochemical Test (FIT).
Policy makers, namely EU Commissioner for Health Stella Kyriakides and John F. Ryan, Director of Public Health at DG SANTE, European Commission, underlined the action taken in the past year by the European Institutions in the framework of the Beating Cancer Plan published in February 2020 and the Roadmap published this month.
Along with the video message above from the EU Commissioner for Health, Mr Ryan pointed out that on the basis of an EU Council of ministers position in 2003, 20 EU Member States had introduced population based screening programmes for colorectal cancer to their National Cancer Control Plans and this by 2020. However, he argued that governments and public health authorities alone cannot address the challenges associated with cancer screening, providing a list of needs to be met to make them effective across Europe:
Full commitment of all stakeholders
Address access for all to screening
Raise public awareness , motivate citizens and develop ways to convince them
Use the potential of research and innovation to improve current screening technologies
Increase actions on health promotion and disease prevention, as the current efforts are insufficient.
A full video, presentations and a Summit Report will be available soon. Would you like to know more about the Screening Summit? Please contact us.