DiCE Partner COR2ED Launches E-Learning Programme on Targeted Therapy Skin Reactions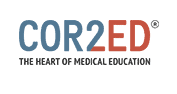 With DiCE patient input, our partner COR2ED, creator of high-quality Independent Medical Education programmes has launched a new e-learning programme for healthcare professionals working in digestive and liver cancer. This programme helps doctors and nurses to better prevent, diagnose and manage skin reactions to targeted therapy.
Patients with digestive cancers, such as colorectal cancer, pancreatic cancer, liver cancer, neuroendocrine tumours, gastric cancer and GIST, can be treated with targeted therapies. These treatments can cause skin reactions, such as rash, dry skin, itch and changes in the hair, nails or mouth. Taking precautionary measures can help prevent these reactions and increased awareness of skin reactions will help doctors and nurses diagnose and treat them earlier. This may improve general patient wellbeing and may allow patients to remain longer on therapy.
The e-learning comes with a downloadable patient leaflet on what patients can do to prevent and manage skin reactions.
The programme has been developed by a group of experts, consisting of a medical oncologist, a liver specialist, a nurse practitioner and a dermatologist. DiCE is pleased to have volunteered its services towards the project as a long-term COR2ED partner.
Visit the learning programme.
This multimedia e-learning was developed on behalf of GI Connect, GI NURSES CONNECT, and HCC Connect supported by an independent educational grant from Bayer.