DiCE Supports MOs Training Opportunity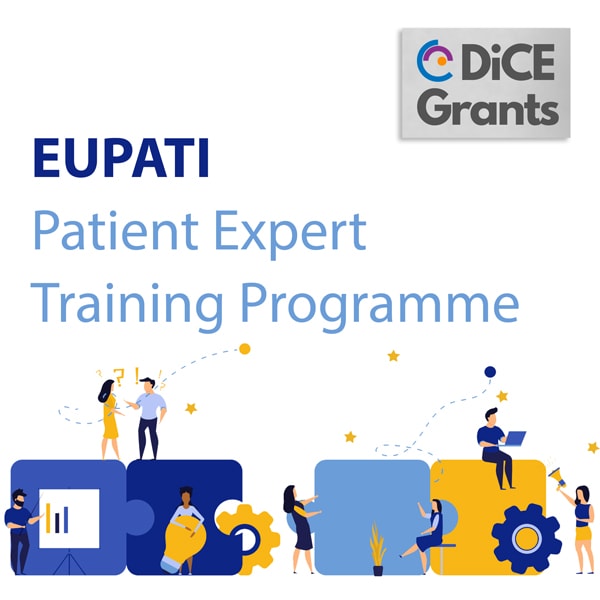 As an integral part of our commitment to patient care, we are pleased to inform you that DiCE will award two grants to DiCE Full members who are interested in attending the Patient Expert Training Programme.
The grant will cover the cost of the online training and the cost of the face-to-face training (transport and accommodation).
Please note that the programme does not focus on any specific disease area examples, and case studies are provided from various disease areas.
The only requirement for enrolment is a good proficiency of English, as the training is provided in English.
It is a long training which usually takes 12 to 14 months to complete, and you will need to make time for the lessons and studies.
To know more about it, do not hesitate to contact 2 participants from DiCE:
Cristina at cristina.vacca@policlinicogemelli.it
Miranda at miranda@pasykaf.org
Let us know if you are interested no later than 20 October by contacting Ghislaine!
More information on the training:
The EUPATI Patient Expert Training Programme is a training programme about the medicines' development process. It covers the entire lifecycle of medicines research and development (R&D) (see roadmap here), from design and execution of clinical trials to regulatory processes and Health Technology Assessment (HTA). In addition to detailed information on each process step, the training also describes how patients can be involved at each stage.
The overall objective of the programme is to obtain a thorough understanding of the medicines R&D process and the patients' role within and build capacity among the patient community to take on an active role in collaboration with the other involved stakeholders.
Graduates of the EUPATI Patient Expert Programme (sometimes also referred to as EUPATI Fellow Programme) are also known as EUPATI Fellows or Alumni. The EUPATI Fellow title certifies the knowledge gained and allows graduates to be recognised as expert patients.
The programme is a blended training in which participants take 6 online modules (containing 27 courses in total) and attend 2 face-to-face events (1 virtual and 1 in-person). Completing the full programme usually takes 12-14 months. Proficiency in English is required as training is provided in English.
Interested to find out more?
Find out all the information about the training in the EUPATI Open Classroom.
Download and save the training programme.
Fill out the registration form before 31 October 2023.
Author:
Ghislaine Gerbier