DiCE Survey Results for Metastatic Colorectal Cancer Demonstrate Several Areas for Improvement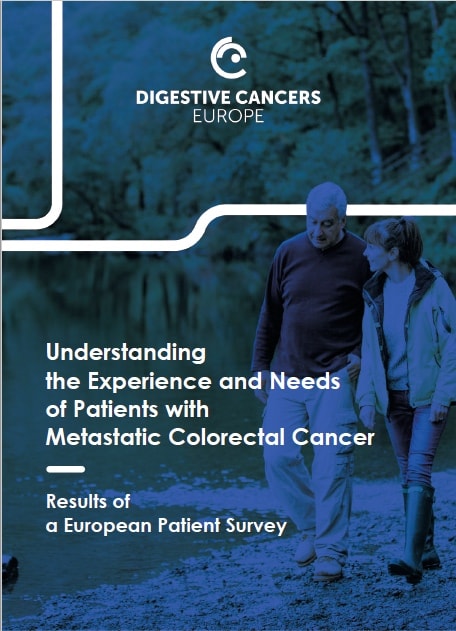 Started in 2016 as a EuropaColon initiative, Digestive Cancers Europe (DiCE) is now reporting the results of its survey of 15 European countries: 'Understanding the Experience and Needs of Patients with Metastatic Colorectal Cancer'. The survey shows several areas for improvement within the patient journey – from pre-diagnosis to screening practices, in the diagnostic and post-diagnosis and treatment phases. This includes agreement that psychological support is largely inadequate. It also demonstrates the similarities and differences of the patient experience across the continent.
"We are very pleased to share the results of our European patient survey," says Zorana Maravic, Director of Operations at DiCE and survey project lead.
"This is the first European survey of its kind that captures the insights of patients with mCRC throughout the entire patient journey and across the different EU countries."
"We have to thank all the patients who gave their invaluable time and honest feedback to help us have a clearer view on how this life-changing disease affects patients personally on different levels and phases of the disease in the different countries."
Next steps for the organisation is to ensure the key conclusions have an impact and invoke change in the needed improvement areas including:
Increased awareness on CRC, particularly symptoms
Screening best practices need to become the norm
Better information provision on disease origin, stages and progression
Simpler, easier-to-understand information on treatment and side-effects
Making patients' psychological/emotional wellbeing a healthcare priority
Guiding patient in the decision-making process and facilitating healthcare professionals (HCP)/patient communications
In order to make this a reality, DiCE is now working on the Europe-wide dissemination of the survey results. This includes making it easily accessible via the DiCE website and social media channels and sharing them through the DiCE patient organisation Member network.
The survey outcomes will also be used as a tool to demonstrate the need for change in DiCE's extensive representation of the patient voice towards public health and policy officials – nationally and regionally.
A word of thanks
This work has been made possible thanks to the insight and continuous support of EuropaColon's Expert Patient Advisory Group (EPAG), all anonymous patients who took part in the survey, the healthcare teams and patient advocacy organisations across Europe that helped us recruit patients and our sponsors.
Would you like more information on the survey, the project and its  sponsors? Please check this page or contact us.