Representing the Patient Voice for Concrete EU Actions to Beat Cancer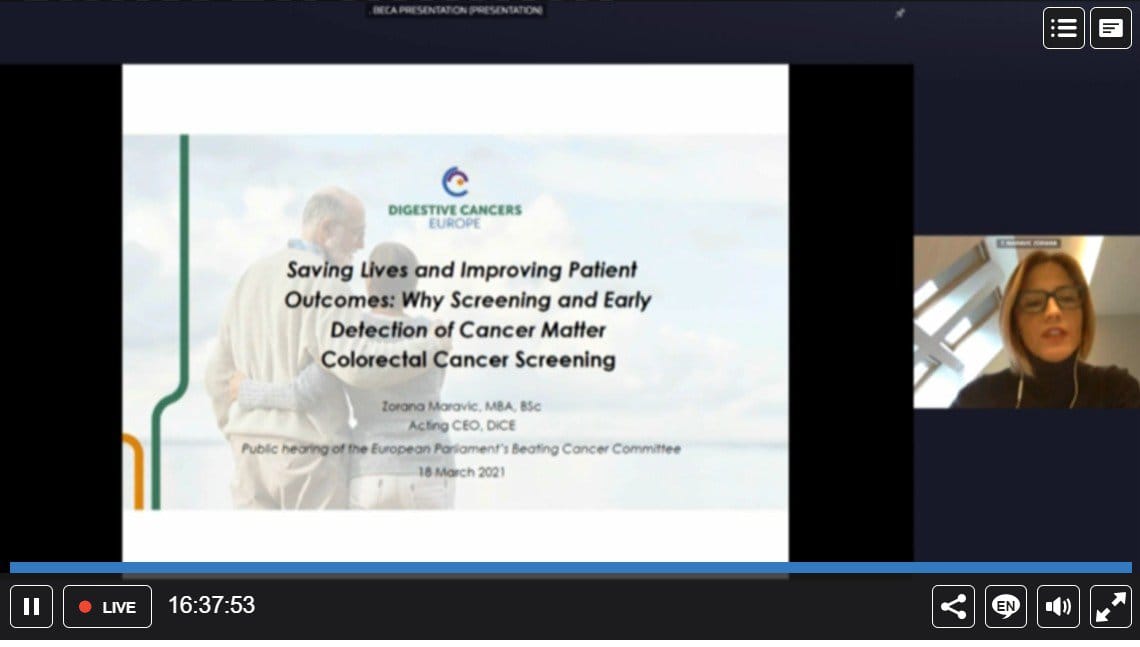 March 18 – Acting CEO Zorana Maravic participated in a Public Hearing of the European Parliament's Beating Cancer Committee providing insight on CRC screening. This ensures the patient voice is heard and adds momentum for having the overall plan translated into concrete actions for patients.
The presentation highlighted once again that although colorectal cancer is preventable and treatable if diagnosed at an early stage, due to poor implementation of formal population screening programmes across Europe, too many people are still dying from this disease – only 14% of EU citizens in the screening age have the opportunity to participate in screening programmes. Here we took the opportunity to share our Joint Statement, showing the way forward on how to improve screening across Europe. Using the best practices from countries such as:
Slovenia that has more than 65% participation rate among the citizens in the 50-74 age group
Both Slovenia and the Netherlands who have detected 48% of all colorectal cancer cases in stage I via their screening programmes, giving these patients a much greater chances of survival (90%), as well as generating significant savings for their health systems.
With this, we have renewed our support and will work together with the EU institutions to achieve the ambitions goals of the Beating Cancer Plan. This includes highlighting:
The need to establish actionable agendas, detailed targets and timelines in order to translate the larger plan into concrete actions
That because of the first-hand knowledge and experience that patient organisations have, they should always be invited to work side-by-side with other stakeholders to ensure the Beating Cancer Plan delivers
This is the second public participation from DiCE in a public hearing at the BECA committee and we are happy to notice the high level of engagement by the European Institutions especially following the publication of the Beating Cancer Plan.
You are invited to access all the materials including the full recordings of the sessions via the links below:
The programme, biographies, presentations and background note
Video I of the hearing – PART 1 from 13:45 – 15:45 Recording
Video II of the hearing PART 2 from 16:15 – 18:15 Recording
Photographs – can be used free of charge through this link. Please credit © European Union 2021 – EP
For any other questions please contact us.