16 February is World Cholangiocarcinoma Day
16 February is World Cholangiocarcinoma (CCA) Day.
World CCA Day was previously held on 12 February. However, from 2023 onwards, the awareness day will occur on the third Thursday of each February (16 February 2023). To ensure everyone can take part in raising awareness of CCA, the Global Cholangiocarcinoma Alliance we (GCCA) will be recognising World CCA Week from 12 -18 February.
DiCE is proud to support GCCA's international effort to raise much-needed awareness of CCA, a devastating cancer that occurs in the bile ducts in or outside the liver. This poorly understood and under-researched disease is increasing in incidence globally, and the way forward is through collaboration.
In collaboration with The Cholangiocarcinoma Charity AMMF, DiCE has create a patient-oriented, 1-page infographic that highlights the risks, signs and symptoms of CCA.
If you feel you may be at risk for CCA, talk to your doctor.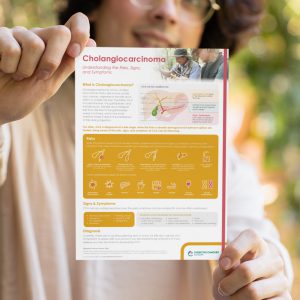 Learn more about The Cholangiocarcinoma Charity AMMF HERE
Learn more about The Global Cholangiocarcinoma Alliance HERE