First-Ever Liver Cancer Masterclass Educates Members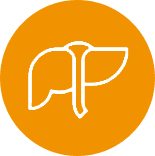 For the first time Digestive Cancers Europe offered its Members a session on liver cancer. This was a part of our annual Masterclass Series with the event centred on patient advocate education, along with our partner the European Liver Patients' Association (ELPA). It was designed to give Members an understanding of the liver cancer patient journey. This is so they can offer the best possible individual support to patients on a national level.
Our excellent multinational speakers helped us reach our educational aim (a very big thank you goes out to them):
Dr. Teresa Casanovas Taltavull, Spain introduced the burden of liver cancer.
Download the slides
Prof. Jeroen Dekervel, Belgium, gave an overview of the agents that are used in the treatment of liver cancer.
Download the slides
Prof. Thierry de Baere, France, explained the importance that interventional radiology has in liver cancer treatment.
Download the slides
An extensive question and answer session followed.  A key discussion point focussed on the (non-)availability, across Europe, of the treatment options put forward by the experts.
Together with our Members and other stakeholders, DiCE will continue to push for equal access across the region to these innovative and effective treatments and technologies. As a next step, Digestive Cancers Europe will also develop a White Paper on Liver Cancer to increase public and political awareness around this cancer.
Along with all participants, our speakers and ELPA we would also like to thank our sponsors for helping us organize the session.
Would you like more information? Please see the event overview including speaker biographies or please contact us.