French Cancer Patients Publically Raise Their Voice on Pandemic Treatment Effects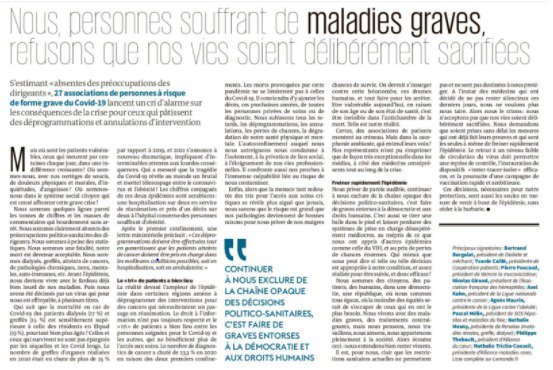 April 6, 27 organisations in France, including the French League Against Cancer and other patient and healthcare organisations, published a tribune in the main French newspaper 'LeMonde' to highlight the plight of patients with severe diseases during the pandemic and the need for greater attention to their care.
Key highlights included bringing to light the:
Deprogramming of certain cancer surgeries
Consequences of self-confinement – Isolation
Problem of obesity
Transplantation decrease (-25% in 2020 vs 2019 with 2021 moving towards similar results) and higher COVID-19 related mortality rate for dialysed/transplanted patients vs. aged care residents
This was along with a request to be considered as equal to all citizens and their view on taking back control within the healthcare arena. The Tribune is available in French on Le Monde and includes the signatures of the following organisational representatives:
Morgane Adam, Présidente du Planning Familial
Bertrand Burgalat, Président de Diabète et Méchant
Yvanie Caillé, Présidente de Coopération Patients
Marie-Anne Campese-Faure, Présidente de l'Association Française des Polyarthritiques et des rhumatismes inflammatoires chroniques
Pierre Conti, Président de la Fédération nationale des associations de retraités
Pierre Foucaud, Président de Vaincre la Mucoviscidose
Patrice Fradet, Président d'ARGOS 2001 (Association d'aide aux personnes atteintes de troubles bipolaires)
Christian Gaudray, Président de l'Union des FAmilles Laïques
Nicolas Giraud, Président de l'Association Française des Hémophiles
Valérie Gisclard, Présidente de l'Union Nationale des Syndromes d'Ehlers-Danlos
Lara Hermann, Présidente de l'Association Française du Syndrome d'Angelman
Joël Jaouen, Président de France Alzheimer
Axel Kahn, Président de la Ligue Nationale Contre le Cancer
Christophe Lucas, Président d'Épilepsie-France
Agnès Maurin, directrice cofondatrice de la Ligue contre l'obésité
Pascal Mélin, Président de SOS Hépatites et Maladies du foie
Nathalie Mesny, Présidente de Renaloo
Françoise Pellet, Présidente de l'Association Française du Gougerot sjögren et des syndromes secs
Edwige Ponseel, Présidente d'AMADYS
Robert Schenk, Président de l'Association Française du Syndrome de Fatigue Chronique
Philippe Thébault, Président de l'Alliance du Cœur
Mathé Toullier, Présidente de l'Association des familles victimes du saturnisme
Christian Trouchot, Président de l'Association des Insuffisants Respiratoires et des Apnéiques du Sommeil
Nathalie Triclin-Conseil, Présidente de l'Alliance Maladies Rares
Danielle-Gabrielle Vacher, Présidente de Association Nationale de Défense contre l'Arthrite Rhumatoïde
Anne-Marie Wilmotte, Présidente de Transhépate
Marie-Agnès Wiss-Laurent, Présidente de la Fédération française des associations et amicales de maladies, insuffisants ou handicapés respiratoires
Would you like to give your opinion on the matter? Please contact us.