New Drug Approved for Patients with Specific Types of Advanced Colorectal Cancer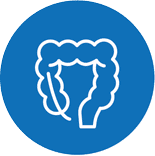 EMA approval of pembrolizumab as first line treatment for patients with specific types of advanced colorectal cancer
Earlier this year the European Medicines Agency (EMA) approved pembrolizumab (Keytruda®) as a monotherapy (to be used on its own, as a single drug) for patients with metastatic microsatellite instability-high (MSI-H) or mismatch repair deficient (dMMR) colorectal cancer.1
MSI-H and dMMR tumours are observed when errors in the DNA of cells, which are normally corrected, are not repaired. As a result, the cells do not function properly.
Pembrolizumab, which had been previously approved by EMA for other types of cancer,2 is a type of treatment known as immunotherapy that helps the immune system fight cancer cells. This is the first time that an immunotherapy treatment becomes available for MSI-H/dMMR metastatic colorectal cancer.
Pembrolizumab is a monoclonal antibody that targets a molecule known as PD-1 (programmed death 1). PD-1 is found on the surface of many cancer cell types as well as non-cancerous cells, and its role is to reduce the immune response (the number of immune cells that can fight cancer cells). When pembrolizumab attaches (binds) to PD-1, this restores the immune response, which helps destroy cancer cells.
The current approval of pembrolizumab was based on the results of the KEYNOTE-177 study, a phase III, international clinical trial. The KEYNOTE-177 study showed that patients with metastatic MIH/dMMR colorectal cancer and no previous systemic treatment had significantly longer progression-free survival when treated with pembrolizumab than patients treated with chemotherapy. In addition, less patients treated with pembrolizumab experienced treatment-related adverse events (TAEs) (grade 3 or 4) compared to patients treated with chemotherapy.
Serious side effects of pembrolizumab are related to the activity of the immune system, which can cause inflammation of healthy organs. The most common side effects include fatigue, nausea (feeling sick) and diarrhoea.2
The next step is for pembrolizumab to become available for this indication through the national health care systems within different European countries. This process varies significantly from country to country, with some country reimbursement approvals happening within a few months after the market authorisation decision by EMA and others after several years.4
References
Would you like more information? Please contact us.