New EMA Immunotherapy Drug Approval Broadens Treatment Options for Some Liver Cancer Patients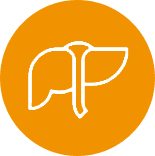 The recent decision by the European Medicines Agency's (EMA) to approve atezolizumab (Tecentriq®) in combination with bevacizumab for the treatment of patients with advanced unresectable hepatocellular carcinoma (HCC) who have not received prior systemic therapy1 expands the treatment options for these patients.
In Europe, two first-line treatments had so far been authorised for patients at advanced stages of HCC: sorafenib (Nexavar®),2 approved in 2008; and lenvatinib (Lenvima®),3 approved in 2018. Both drugs function by blocking cancer cell production.
EMA's decision was based on a positive opinion by the Committee for Medicinal Products for Human Use (CHMP) recommending a change to the terms of the marketing authorisation for the medicinal product atezolizumab.4
Atezolizumab belongs to a type of cancer treatment known as immunotherapy that boosts the response of the immune system to fight cancer cells. Atezolizumab is a monoclonal antibody that targets a molecule known as PD-L1 (cell death protein ligand 1), which is found on the surface of many cancer cell types as well as non-cancerous cells, and its role is to reduce the immune response (the number of immune cells that can fight cancer cells); binding of atezolizumab to PD-L1 restores the immune response resulting in the elimination of cancer cells.
EMA had previously approved atezolizumab for the treatment of urothelial carcinoma, lung cancer and breast cancer. The current approval for the treatment of HCC was based on the results of the IMbrave 150 study, a phase III, global clinical trial, which showed that patients with unresectable HCC and no previous systemic treatment had better outcomes in terms of overall and progression-free survival when treated with atezolizumab in combination with bevacizumab than patients treated with the standard of care sorafenib.5 The number of patients who experienced adverse effects (grade 3 or 4) was similar in both treatment groups.
The next step is for atezolizumab to become available through the national health care systems within different European countries. This process varies significantly from country to country, with some country reimbursement approvals happening within a few months after the market authorisation decision by EMA and others after several years.6
European Commission approves Roche's Tecentriq in combination with Avastin for the treatment of people with the most common form of liver cancer. News release. Roche. November 2, 2020. Accessed November 9, 2020.
Llovet JM, et al. Sorafenib in advanced hepatocellular carcinoma. N Engl J Med. 2008 Jul 24;359(4):378-90. doi: 10.1056/NEJMoa0708857.
Kudo M, et al. Lenvatinib versus sorafenib in first-line treatment of patients with unresectable hepatocellular carcinoma: a randomised phase 3 non-inferiority trial. Lancet. 2018 Mar 24;391(10126):1163-1173. doi: 10.1016/S0140-6736(18)30207-1.
https://www.ema.europa.eu/en/documents/smop/chmp-post-authorisation-summary-positive-opinion-tecentriq-ii-39_en.pdf
Finn RS, et al. Atezolizumab plus Bevacizumab in Unresectable Hepatocellular Carcinoma. N Engl J Med. 2020 May 14;382(20):1894-1905. doi: 10.1056/NEJMoa1915745.
Wilking N, et al. Achieving equal and timely access to innovative anticancer drugs in the European Union (EU): summary of a multidisciplinary CECOG-driven roundtable discussion with a focus on Eastern and South-Eastern EU countries. ESMO Open. 2019 Nov 13;4(6):e000550. doi: 10.1136/esmoopen-2019-000550.