New Reports Support Improved Cancer Screening Programmes in Europe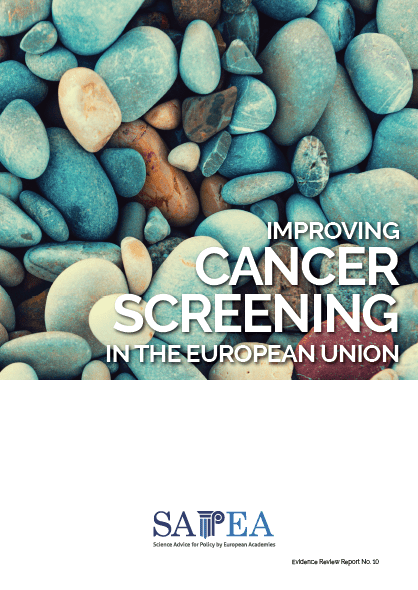 Fuel for new and improved cancer screening programmes in Europe was released at the beginning of March in the form of two reports, one from the Science Advice for Policy by European Academies (SAPEA) and the other, based on the scientific findings laid out here, from the Group of Chief Scientific Advisors of the European Commission. The latter will go towards the Commission's proposal to update the 2003 Council Recommendation on cancer screening to ensure the latest available scientific evidence is reflected.
Proudly, the first SAPEA Evidence Review Report 'Improving Cancer Screening in the European Union', includes the patient voice from Digestive Cancers Europe with our CEO, Zorana Maravic, having represented patients during a workshop organized for their review of colorectal cancer.
Main points of this report from a digestive cancer perspective include:
· On colorectal cancer they say "screening should be improved by optimising how frequently people are screened, depending on age, sex, and results of previous tests"
· On gastric and oesophageal cancers. The report explores these lesser known but mainly fatal cancers. For these they note that "the evidence does not yet support population-wide screening. New technologies, including multi-cancer blood tests, are not yet ready for routine use — but research is moving fast and we should be prepared to introduce new methods, especially in high-risk populations."
· On cancer screening in general their key points for a successful programme are as follows: "Once a programme is running, it needs to be continually monitored and adjusted to maintain quality. Standards, guidelines and screening criteria should be continually updated to take advantage of emerging evidence and new technologies, and the EU has a role in coordinating this. This would also allow countries to share experience and data, and to optimise the use of resources."
In turn, the second report 'Scientific Opinion – Cancer Screening in the European Union' recognises that "Early diagnosis gives the best chances of survival. Therefore, population-based screening offers major opportunities to reduce the impact of cancer."
Key points in relation to digestive cancers are:
"Ensure that existing screening programmes for cervical, colorectal, and breast cancer integrate state-of-the-art scientific knowledge, are coordinated within the whole pathway of cancer management and are centred on the citizens."
"For colorectal cancer, use faecal immunochemical testing (FIT) as the preferred triage test for referring individuals for follow-up colonoscopy."
"For gastric cancer, population-based screen and treat programmes for Helicobacter pylori are only recommended in regions with intermediate to high gastric cancer incidence, there is only a strong rationale for H. pylori test-and-treat strategies in countries with high rates of gastric cancer."
"At present, neither the experts nor the literature review finds scientific grounds for recommending population-based endoscopic screening for oesophageal cancer"
"Take advantage of the rapidly developing technological possibilities and scientific knowledge to optimise early diagnosis and risk-based cancer screening and throughout the EU."
Digestive Cancers Europe is pleased that these recommendations fit in our current Roadmap for Colorectal Cancer and our Roadmap for Gastric and Oesophageal Cancer and looks forward to the new Council Recommendations and their consideration of these reports. The organisation will continue its work advocating for the implementation of these recommendations in all European countries.
Would you like to know more? Please contact us.