Calling on EU Institutions to Address the Growing Burden of Digestive Cancers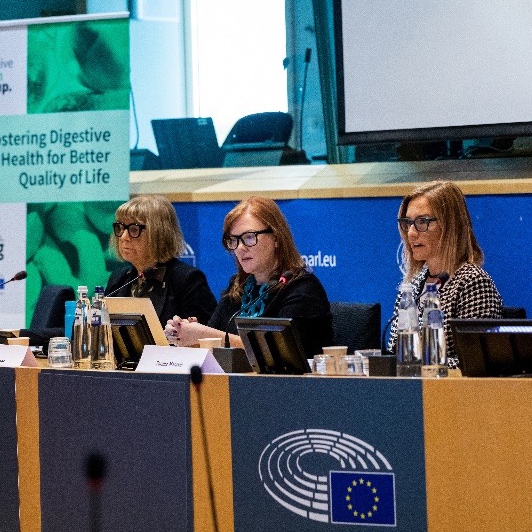 Our CEO, Zorana Maravic, joined United European Gastroenterology (UEG) on 26 April at the European Parliament in Brussels to call for more action to address the growing burden of digestive health in Europe, especially cancers.
The event was organised on the occasion of the launch of White Book 2, commissioned by UEG, which maps the burden of digestive diseases.
UEG White Book 2 builds on the first White Book published in 2014. Unfortunately, the findings reveal a notable and concerning increase in the number of incidents and deaths. Furthermore, findings also identify widening health inequalities across Europe, predicted to be further exacerbated by emerging economic challenges.
Data gathered from 44 countries (UEG member countries) analysed the burden and economic impact of digestive diseases, including cancer, it investigated the research gaps and identified priorities.
The most common digestive cancers, which include primary liver, pancreatic, oesophageal, stomach (gastric) and colorectal, have seen a 26% increase in incident cases from 2000 to 2019. In investigated countries, these cancers were responsible for over one-third of cancer-related deaths.
Based on the key findings, UEG has issued an Open letter addressed to EU leadership with six policy recommendations to create a stronger policy environment for digestive health in the EU:
1. Start early: Promote health and prevent disease
2. Focus on primary prevention: Target risk factors
3. Support the vulnerable: Address health inequalities
4. Employ cancer screening: Identify high-risk populations
5. Unlock statistics: Prioritise the collection of new data
6. Dilute the disparity: Evaluate funding and priorities
DiCE is a proud supporter of this statement and will continue to work with the digestive health community to accelerate progress and ensure that today's citizens don't become patients.