Calling All Members! Applications Open for the Wolfram Nolte Memorial Award for Colorectal Cancer Projects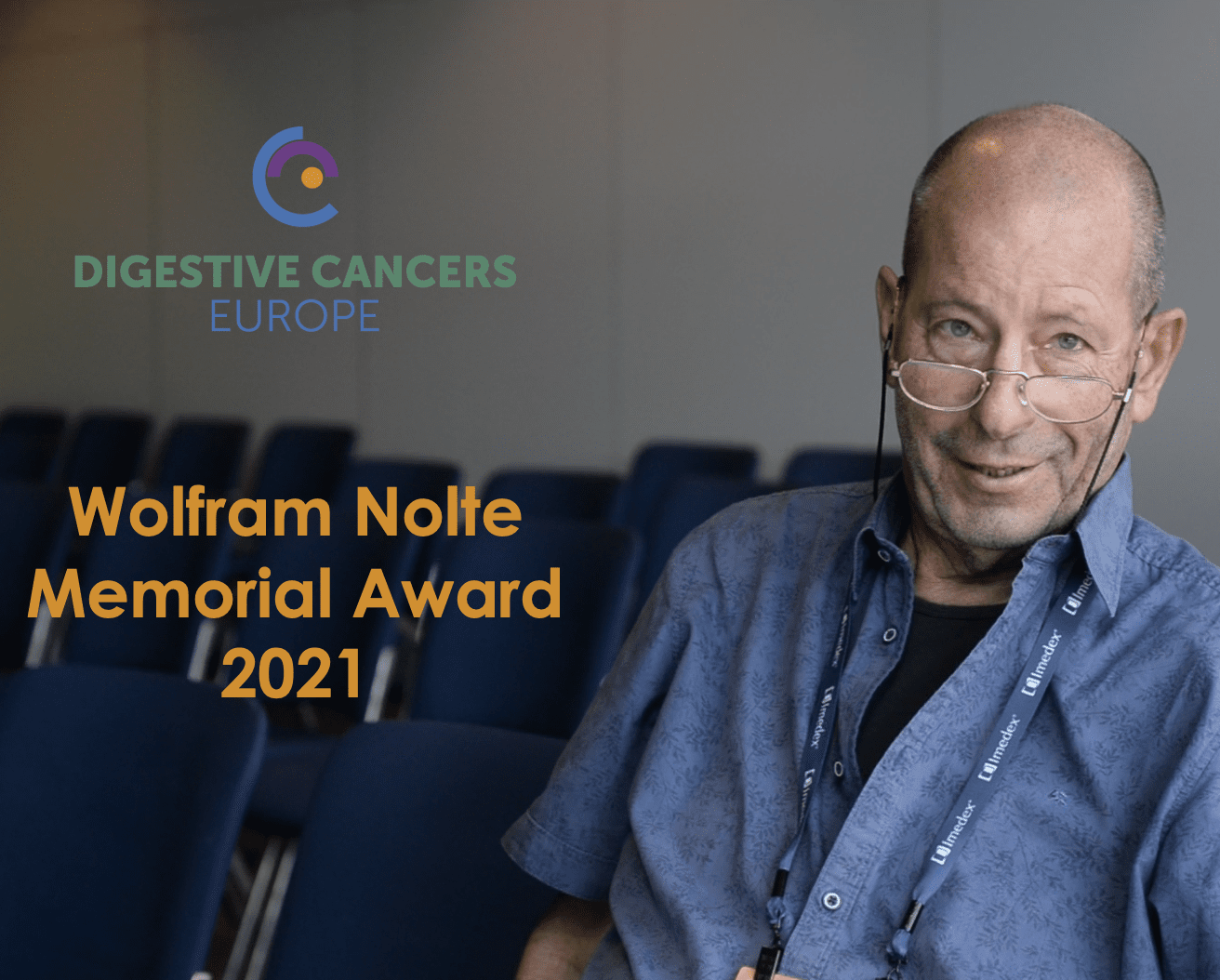 Digestive Cancers Europe would like to make a call to all Members with projects in colorectal cancer (CRC) to apply for our annual Wolfram Nolte Memorial Award by November 8 this year. The prize of €5.000 awaits the winning project!
The award was established in 2019 in the name of the late Wolfram Nolte, a dear friend to many at DiCE and a metastatic CRC (mCRC) patient who was very active for many years in raising awareness, improving patient education and in sharing his experience.
What criteria do projects need to fulfill?
The project needs to aim at solving an unmet need for CRC Patients/Carers. This year, for the first time, all Member Organisations are eligible to apply (both Full and Associate Member Organisations). The following criteria will be graded by our international jury comprising of patients and patient advocates:
Importance of the unmet need that is to be solved
Innovativeness of the project
Feasibility of measuring key performance indicators
Achievability of the project
Involvement of other stakeholders
Sustainability of the project
Project outlines should be sent to Ghislaine, our Administrative Manager before November 8, 2021. The winner will be announced in our November Newsletter – published at the end of the month.
Judging Panel
Applications will be judged on the criteria above by the following experts:
| | |
| --- | --- |
| Mrs Lieve Wierinck | Digestive Cancers Europe Board Member & Colon Cancer Survivor |
| | Read Lieve's biography. |
| Prof Alberto Sobrero | Head of Medical Oncology at Ospedale San Martino in Genova, Italy. |
| | Alberto Sobrero is Head of Medical Oncology at Ospedale San Martino in Genova, Italy. After his MD in Genova, he took up the position of postdoctoral Associate in Medical Oncology at Yale University for 5 years and completed a residency in Internal Medicine at the Yale Affiliated Norwalk Hospital. From 2002 to 2006, Professor Sobrero has been the Chairman of the Protocol Review Committee of the EORTC. He has served on the editorial board of the Journal of Clinical Oncology, has been part of the Scientific Committee of ASCO (2007-2008), and Chaired the GI committee of ESMO. He received the ESMO award in 2017. Recently he has launched a patient dedicated site www.youtumor.org to support patient information and empowerment. His main research interests include gastrointestinal cancer treatment and design and interpretation of clinical trials in oncology. |
| Dr José Perea | General Surgeon and Gastroenterology Specialist in Coloproctology, Fundación Jimenez Díaz University Hospital |
| | José Perera is a surgeon in the Coloproctology Unit at the 12 de Octubre University Hospital for 10 years, and now at the Jiménez Díaz Foundation University Hospital. In both institutions he has been the Principal Investigator of the Research translational group. He is also Adjunct Professor of Surgery of the Medicine School of the Complutense University, in Madrid. He is currently applying for accreditation for University Associate Professor. His research interests cover different aspects of Colorectal cancer (CRC), especially in early-onset and multiple primary CRC forms, apart from hereditary syndromes |
| Dr Marianna Vitaloni | Medical & Scientific Project Coordinator, Digestive Cancers Europe |
| | Read Marianna's biography |
| Pete Wheatstone | Colorectal Cancer Survivor & Patient Advocate |
| | Pete was diagnosed with stage III colorectal cancer in 2014. As a patient advocate, Pete now spends much of his time helping to drive improvements in earlier diagnosis, smarter and kinder treatments and a better quality of life for cancer patients.  He works with both cancer researchers and data science researchers in over 30 UK & European organisations. He chairs a number of Patient Panels and sits on research Trial Steering & Management Groups with many of the major cancer charities, universities, NIHR Biomedical Research Centres, and some commercial companies.) |
Previous award recipients have been:
2020, EuropaColon Portugal. Project aim: providing palliative care to mCRC patients in a specific region of Portugal
2019, EuropaColon Polska. Project aim: to improve the quality of life for a specific group of mCRC patients that have functional urological complications after surgery
Would you like more details? Please contact us.