DiCE Award Helps EuropaColon Polska Pregnancy Project Come to Life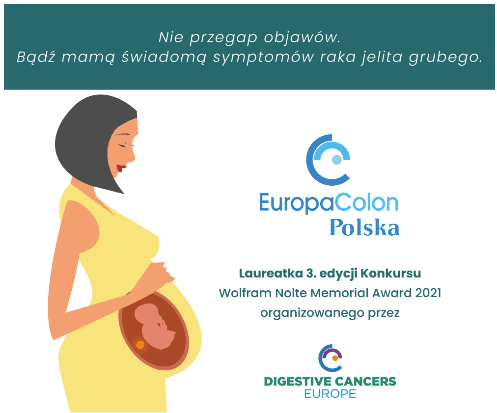 DiCE Member EuropaColon Polska was, for the second time, the recipient of the DiCE Wolfram Nolte Memorial Award in 2021. Their winning project was a campaign that, according to the award criteria, aimed at solving the local, unmet need of patients and caregivers with colorectal cancer (CRC). The campaign targets pregnant women and bears the title 'Don't Miss the Symptoms. Be a mom aware of the symptoms of colorectal cancer.'
"Our campaign targets pregnant women and their families, as well as specialists from various fields including those giving medical care to women at that time: family house doctors/general practitioners, gynecologists, midwives as well as organizations and institutions supporting future mothers in this demanding time." explains Iga Rawicka, President EuropaColon Polska. "The aim of our activities is to increase the understanding, also of the general public, about the symptoms of colon cancer. These are very often 'masked' by the usual pregnancy symptoms . We absolutely do not want to scare future mothers, but we also cannot avoid this topic."
In their launch press release of May 26, EuropaColon Polska explains the situation and why it is so pertinent to increase awareness of CRC for expectant mothers: "The waiting time for a baby is an extremely important stage in the life of both mother and baby. Sensitivity to any health problems during pregnancy increases the mother's anxiety and exaggerates the fear for the safety of the two. Especially if the symptoms could indicate cancer.
And it is precisely colorectal cancer in pregnant women that becomes more and more challenging because it is not diagnosed early. It is estimated that the number of pregnant women who will be diagnosed with it will increase, as more and more women postpone motherhood, and at the same time more and more young women begin to suffer from this cancer.
Which pregnant woman has not experienced a change in bowel habits, hemorrhoids or lower gastrointestinal bleeding, or anemia? These are also symptoms of colorectal cancer, which is one of the most common malignant neoplasms in pregnant women1. Doctors do not think about the need for in-depth diagnostics when the expectant mother reports the above symptoms, because they are quite common in pregnancy, and this hinders and delays the diagnosis of the cancer large intestine.1"
DiCE would like to congratulate EuropaColon Polska for their excellent work so far and wish them every success in reaching out to pregnant women in Poland with these, what could be, life-saving messages. Are you interested in knowing more about this campaign or maybe using it as a basis for work that you are doing on CRC? Please contact us or EuropaColon Polska.
1. https://journals.viamedica.pl/ginekologia_perinatologia_prakt/article/download/47397/34613