EMA Approves New Treatment Option for Certain Cholangiocarcinoma Patients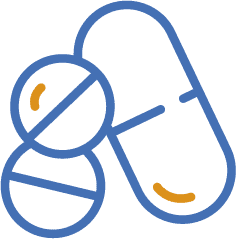 CCA, also known as bile duct cancer, is a rare cancer that develops in the bile ducts and accounts for the 3% of all gastrointestinal cancers. The biliary tract is part of the digestive system and includes the liver, the gall bladder and the bile ducts. The bile ducts are the thin tubes that transport the fluid bile from its production point, the liver, to the gallbladder and to the small intestine. In Europe, approximately 6.000–8.000 people are diagnosed with CCA every year. (1) When detected early, CCA can be treated with surgery. However, because of its rarity, CCA is difficult to diagnose, and it is usually detected at advanced stages, when it is difficult to treat.
Recently the European Medicines Agency (EMA) approved pemigatinib (Pemazyre®) as a treatment option for patients with advanced or unresectable (cannot be operated) cholangiocarcinoma (CCA) whose cancer has progressed after previous treatment. (2,3) Pemigatinib is an oral drug that belongs to a type of medicine known as protein kinase inhibitors. It can only be given to patients with CCA that have a mutation (DNA change) in a molecule called FGFR2 (Fibroblast Growth Factor Receptor 2). FGFR2 is normally found on the surface of the cells; however, the mutated (altered) FGFR2 form is found on the surface of cancer cells and contributes to the growth and spread of the cancer. Pemigatinib is used as a targeted therapy by blocking the abnormal FGFR2 molecule, which results in a halt in the growth of cancer cells.
Pemigatinib has been given orphan drug designation, which means that it is used for rare diseases. Its approval for CCA is based on the FIGHT-202 study that showed that 37% of patients had a reduction in the size of the tumour for an average of 8 months.4 The most common side effects of pemigatinib include abnormal levels of phosphate in the blood, hair loss, diarrhoea, tiredness and nausea among others.
Currently, pemigatinib has a 'conditional authorisation', which means that the company needs to provide additional evidence on the final results of the study about the medicine's safety and effectiveness as well as on the results of a study that compares pemigatinib with chemotherapy drugs used for newly diagnosed CCA patients.
Would you like to know more about this rare cancer? Please contact us and refer to the related articles below:
References
1. Bañales JM, et al. Cholangiocarcinoma 2020: the next horizon in mechanisms and management. Nat Rev Gastroenterol Hepatol. 2020 Sep;17(9):557-588. doi: 10.1038/s41575-020-0310-z.
2. https://www.ema.europa.eu/en/documents/smop-initial/chmp-summary-positive-opinion-pemazyre_en.pdf
3. Incyte Announces the European Commission Approval of Pemazyre® (pemigatinib) as a Treatment for Adults with Locally Advanced or Metastatic Cholangiocarcinoma with a Fibroblast Growth Factor Receptor 2 (FGFR2) Fusion or Rearrangement.Press release. Incyte. March 29, 2021. Accessed May 26, 2021.
4. Abou-Alfa GK, et al. Pemigatinib for previously treated, locally advanced or metastatic cholangiocarcinoma: a multicentre, open-label, phase 2 study. Lancet Oncol. 2020 May;21(5):671-684. doi: 10.1016/S1470-2045(20)30109-1.