New Patient Leaflet Available for Patients with CCA and Gallbladder Cancers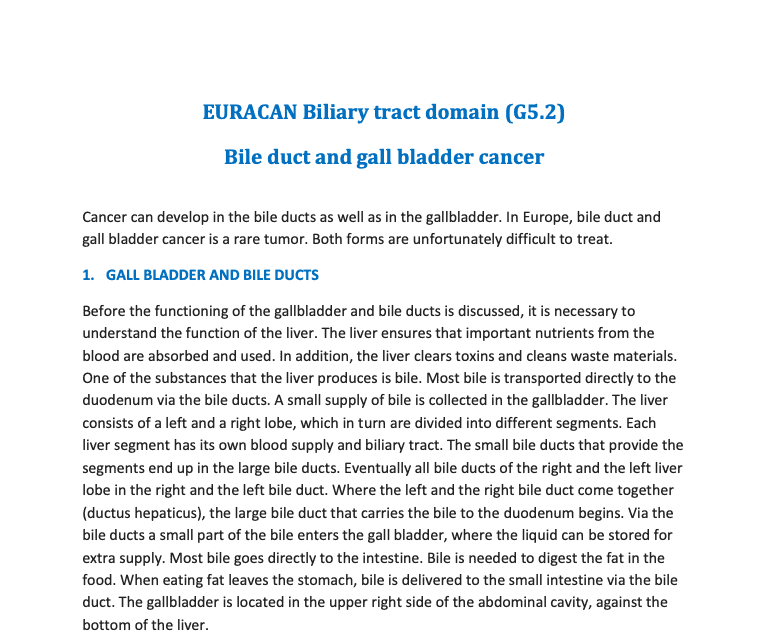 Digestive Cancers Europe, works with EURACAN – the European Reference Network for patients and healthcare providers for all rare adult solid cancers. Here we represent the perspective of patients with rare digestive cancers in the network, including gallbladder and Cholangiocarcinoma (CCA) or bile duct cancers. In relation to this work a patient leaflet with clear and trusted information about these cancers, can now be found on the EURACAN website. It expands the patient information on biliary tract cancer already available in English and Italian by the European Society of Medical Oncology (ESMO).
About the EURACAN European Reference Networks
Rare cancers have additional challenges related to their diagnosis and treatment, which are closely linked to the fact that they are only infrequently observed. To overcome this challenge, in 2017 the European Commission launched the first European Reference Networks (ERNs). These are virtual networks involving healthcare professionals and patient representatives across Europe. ERNs aim to overcome the challenges of complex or rare diseases and conditions that require highly specialised treatment and care, and concentrated knowledge and resources.
About the EURACAN Domains and DiCE Involvement
EURACAN aims to connect patients and healthcare professionals across Europe to achieve better management of patients with rare solid cancers within expert centres. Within EURACAN there are 10 domains, each dedicated to a specific solid cancer type. Domain 5 (G5) includes the rare cancers of the digestive tract of which DiCE is a part.
Would you like to know more about CCA? Read the following related article or contact us: