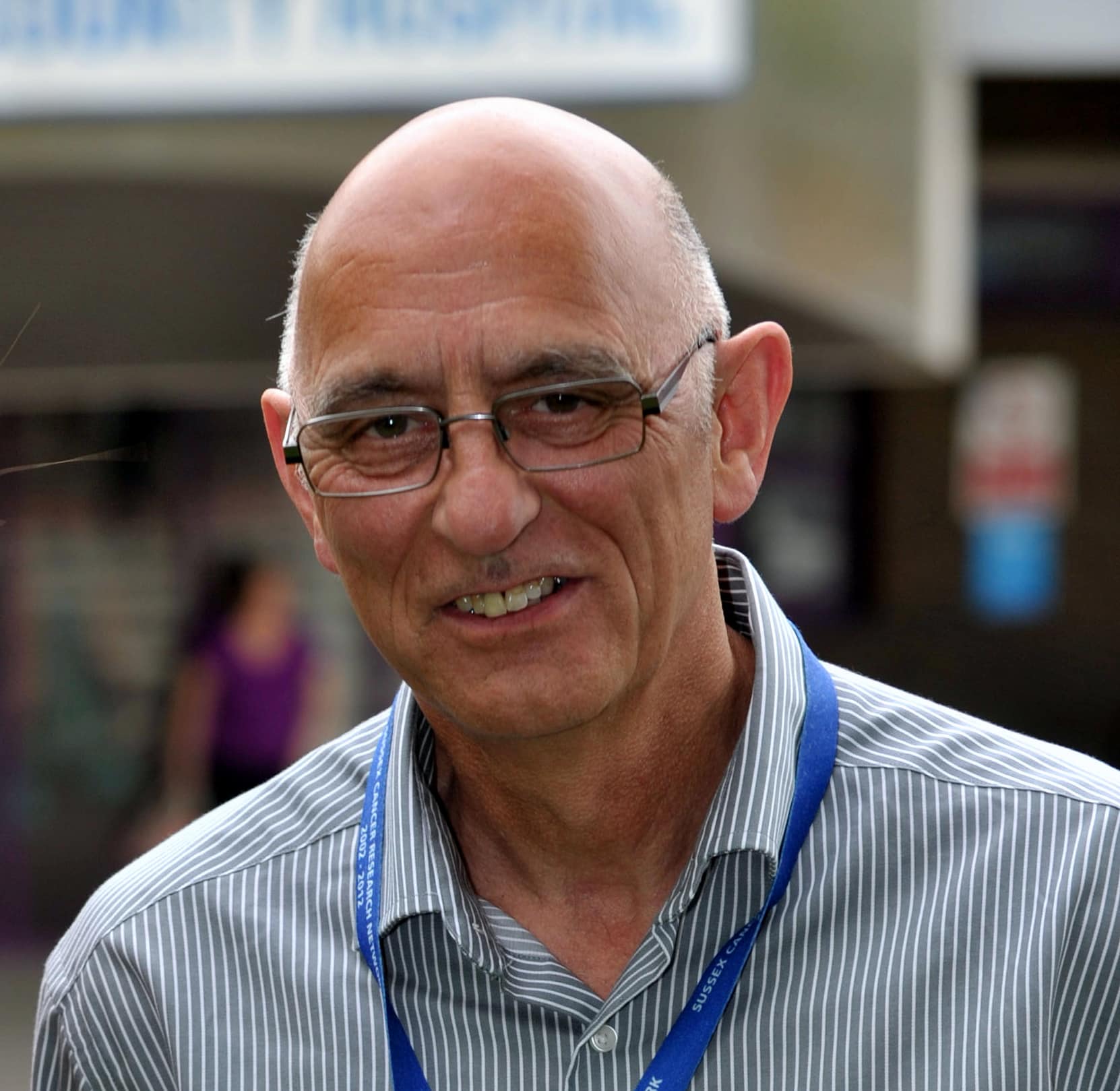 Dave's story
When I was diagnosed and treated, I had no other people like me to share my experiences with. This support was sorely lacking, that's why it's so important to me to be able to help others who go through this same experience. Also, people saved my life and I want to give something back.
Dave Chuter, active patient advocate was diagnosed with oesophageal cancer in 2006. Following successful treatment, he returned to work and alongside this began a varied and full path of giving back to other patients. With cheerful generosity, Dave shared his story with DiCE in April – the month of Oesophageal Cancer Awareness.
Dave had lived with uncomfortable reflux and its treatment with Proton Pump Inhibiters for a number of years, but it was when he started to have trouble swallowing off and on over a number of weeks that he went to his General Practitioner (GP). Luckily, he sent Dave for an endoscopy.
Within four weeks he had been diagnosed with both Barrett's Oesophagus – a known precursor to Oesophageal cancer – and the cancer. The cancer was in the form of a tumour at the junction of the oesophagus and the stomach, which is the most common location.
He went for surgery that included the removal of the oesophagus (a full oesophagectomy) and three-quarters of his stomach (a partial gastrectomy). Dave described this as being "very complex. My operation took 10 hours and recovering from it was extremely tough."
Yet here he recognised himself as "one of the lucky ones" because when diagnosed early oesophageal cancer is curable with 80% of those diagnosed in its early stage surviving for more than one year. Unfortunately, the disease is statistically shown to be caught seven out of ten times too late, with survival rates for more advanced stages of the cancer being extremely low.
As part of this fortunate few, Dave recovered well from surgery and moved onto the next phase of life with a radically altered digestive system.
"The hardest part of living with the consequences of such surgery is eating – understanding and knowing how you can eat, what you can eat and how much," Dave explained.
"Due to the changes in your digestive system, food goes directly into the bowel, your stomach is no longer able to regulate this for you, also the vagus nerve is cut disconnecting the stomach from the pancreas. As a result, if you eat too much at once you suffer from what is called 'dumping syndrome'. This is similar to diabetes where your body no longer regulates insulin properly. You get an incredible sugar high and then a terrible sugar low. If this happens, I get knocked out and need to lie down for half an hour or so."
To regulate this Dave has to 'graze', eating around six small meals a day waiting two to three hours between them. It is also difficult to eat and drink together, so he needs to treat drinking as a meal.
Besides the changed eating schedule, three years following his surgery Dave had reflux and swallowing problems again. He then had to go back for a follow-up surgery to reopen the top join between the oesophagus and the stomach and to stretch the Pylorus Pyloric Sphincter at the bottom of his stomach.
"This is a known complication in oesophageal cancer patients, and the corrective surgery has worked well for me. Outside of the surgery, one of the hardest aspects of survivorship is getting used to the unavoidable eating habit changes though."
"It took me four to five years to understand the best way of eating, but I'm OK with it now – malnutrition is of course a major problem for survivors of this cancer. You have to be careful not to lose too much weight and putting weight on is a problem for us."
But it took him much less than four to five years to set up his first patient support group. Within three months of his surgery he took on the task of finding other patients with whom he could share his experiences and his first-hand understanding of living with cancer. Here he founded and is still the coordinator of the Guildford OPA Cancer patient support group. Offering guidance from diagnosis, through to treatment and into survivorship.
This is along with an extensive list of voluntary patient advocacy roles including his current position as NHS Foundation Trust, Rest of England Governor, Royal Surrey County Hospital and Chair of the Patient Experience Committee, and his active membership in cancer research networks across the UK.
"When I was diagnosed and treated, I had no other people like me to share my experiences with. This support was sorely lacking, that's why it's so important to me to be able to help others who go through this same experience. Also, people saved my life and I want to give something back."
Asked what key areas he's working on in his advocacy work Dave spoke of four focal points: "along with the key role of offering patient support, we need to increase awareness within the general public. Especially about the fact that living constantly with heart burn or reflux is abnormal and needs to be looked at by your doctor if symptoms persist."
"This said, we also need to increase understanding of early symptoms for GP's so that others can get the same rapid treatment that I received. They need to understand that Barrett's is the most common result of reflux. That it can be treated and that patients with Barrett's must always be screened for cancer."
"We are also working on research projects to understand more about survivorship and long-term effects of the treatments as data on this is almost non-existent."
Thank you very much Dave for sharing your incredible journey with us – we wish you all the very best for all you are working to achieve.
For more information about oesophageal cancer you can:
Go to our oesophageal cancer data map and compare data on new cases, mortality, incidence and survival between European countries
Discover the OPA website for specifics on their patient support and advocacy activities
If you are an oesophageal cancer patient or carer in need of support in other European countries please contact us with any questions and we will help you further.
We want to hear your story
We hope that this section of our website will provide the platform and inspiration for patients/survivors to tell their own story. If you would like to contribute to this page please contact us.