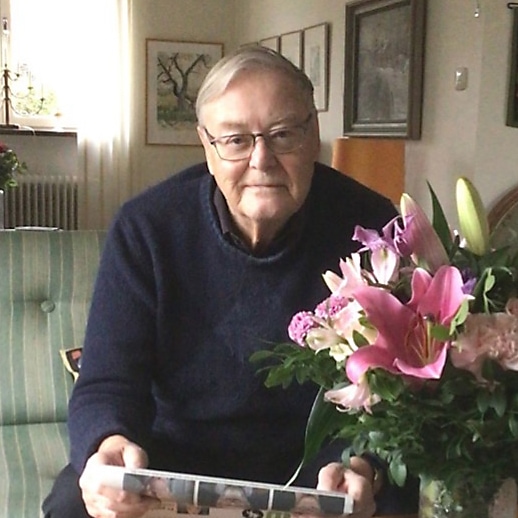 Sven's story
Sven Tägil is a retired professor of history who will turn 93 this autumn, possibly making him Sweden's longest pancreatic cancer survivor.
Sven Tägil is a retired professor of history who will turn 93 this autumn, possibly making him Sweden's longest pancreatic cancer survivor.
Rewinding to the 1980's Sven had no unusual symptoms besides heartburn and a stomach ulcer. It took his wife and son, who was studying medicine, to urge him to go to the doctor and follow up with a gastroscopy to understand his condition clearly.
Sven was awake during his gastroscopy, following along with the camera when they saw an enormous growth close to blocking the lower part of his duodenum, near his pancreas. It was shocking to see this inside himself, and the following week it was established that he had cancer of the pancreas.
After a few anxious weeks, it was time for surgery. Sven was a very interesting case for the doctors, and he was one of the first Whipple operations performed in Lund, Sweden, hoping for a life-saving rescue because no metastases had formed.
Major surgery
It was a major operation, and they took part of Sven's stomach, gallbladder, and duodenum, rewiring his whole system. Several doctors and specialists were involved during the operation, as the Whipple procedure was more commonly performed as a palliative treatment. Pancreatic cancer is insidious as it produces no symptoms until it is too late to intervene.
The doctors left a piece of the tail of the pancreas for the production of insulin, with the hope that Sven could avoid developing diabetes. Sven managed for a while with medication, but soon daily insulin injections became necessary to manage the diabetes he developed, and he had to adapt his life accordingly.
Sven had to spend several weeks in the intensive care unit and with another operation after a complicated leak with a lot of blood loss. As a result, he lost 20 kilos of his body weight. He thinks back to this time as a long convalescent period over the summer. But by the fall, Sven was cautiously playing tennis again; he struggled but made sure to continue his active life.
Continuing an active life
Today, Sven and his wife Elisabet, a physiotherapist, live in a house in Lund and manage independently. They continue their active lifestyle, walking together every day. He relies on his walker, which he now values but initially thought was unnecessary. His mind and memory remain sound. Sven remains in contact with his doctors, Professor Stig Bengmark and surgeon Bruno Walther, and during his last appointment with Bruno, he was told, "You probably have a record for survival!"
A few years back, Sven attended a conference in Lund for pancreatic researchers open to the public, patients, and relatives. The mood was gloomy and depressed after a few talks with pancreatic patients. Still, Sven requested the floor to share that he survived for over 30 years after his Whipple operation and that patients and relatives should not give up hope! There was spontaneous applause, and the mood shifted from despair to cautious hopeful.
So even the bleakest forecast can lead to something positive!
_________________________
Adapted from an online publication by PALEMA | 9 May 2023. Read the original article in Swedish HERE
We want to hear your story
We hope that this section of our website will provide the platform and inspiration for patients/survivors to tell their own story. If you would like to contribute to this page please contact us.