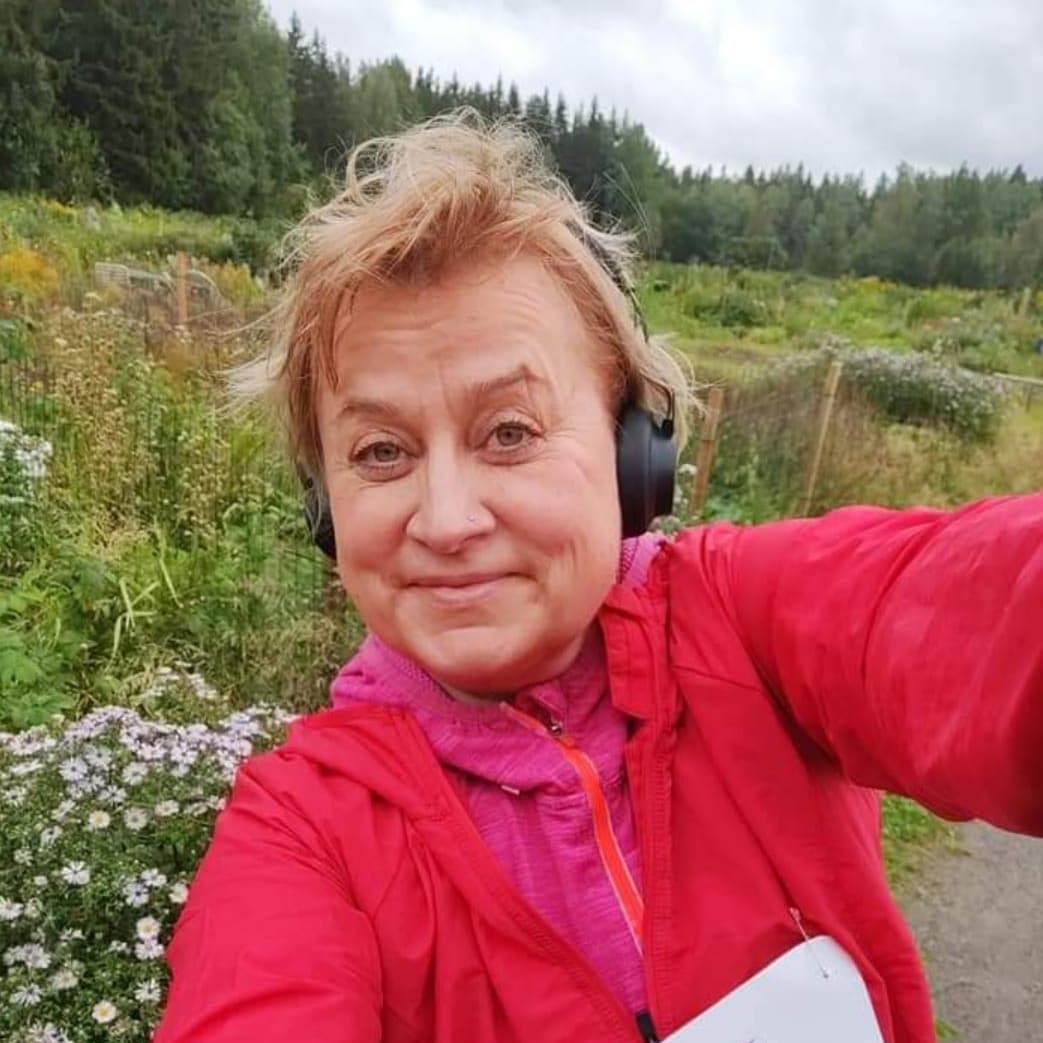 Mia's story
I wish to bring hope to those newly diagnosed by being open about my story. You must remember it does not always mean that you automatically get cancer; by getting your regular check-ups, getting to know your body, and listening to it, we are always one step ahead!
Hello, my name is Mia, I am 57 years old and live in Finland. I am a mother to two boys and a girl, and twenty years ago, I was diagnosed with Lynch Syndrome (LS) while living in Montreal, Canada.
I had never heard about LS before. I was the first in my whole family to be tested, which was surprising considering my mother's history with cancer.
It must be Lynch Syndrome
It all started in San Diego, USA, I felt unwell for too long, and after a colonoscopy, I underwent surgery to remove a tumour found in my colon. I wanted to go back to Finland after the procedure. However, we ended up in Canada for the sake of my husband's career. My Canadian oncologist believed that a 37-year-old young woman shouldn't have colon cancer without having genetic problems. I was tested for Lynch Syndrome; now, it is in the guidelines for a young colorectal cancer patient to get tested for LS; however, back then, it wasn't.
It was a huge shock, and I immediately thought of my kids and whether they might have inherited it from me. I tried to learn more, but there was not much information about LS then. In Canada, I was lucky to find a professor specialising in LS, particularly in the MSH2 gene mutation that I have.
Here, I was well taken care of, with emotional support for my children, my husband, and myself as a couple and individually. This was especially helpful when the doctors wanted to remove my ovaries and uterus, a preventive procedure for LS patients. My onco-gynaecologist put much pressure to have this surgery. Still, I had to think about it for close to 6 months – it was a weighty decision because, before my cancer diagnosis, I thought of having more children. Over those months, I changed my mind because I wouldn't want to leave my husband behind with all of them.
When my mother visited us, she was also tested and received an LS diagnosis at 70. Interestingly, she was never tested for LS before with multiple cancers throughout her life, despite LS studies starting in the eighties. I assume that my only sister and I inherited it from my mom's side because there are so many LS-related cancers on that side. Following her diagnosis, we tried to contact many of her relatives and inform them about this genetic condition. I know some of them got themselves tested, but I do not know if any were positive for LS. My sister got diagnosed with an aggressive soft tissue sarcoma while I was recovering and spending my summer in Finland. She was treated with a wrong diagnosis for over a year and a half, allowing the cancer to spread. At that time, her doctors did not consider LS. She had many rounds of chemo and radiation, along with muscle amputations. She also took part in a clinical trial for a new chemotherapy drug.
Her biopsy samples were tested after she passed away – she was also positive, but it was too late. My sister had two boys and a girl, and I promised to look after them. Her widower did not want the children to be tested, so I waited until they were eighteen, and together with my children, we met with the LS research team. They were all tested except my sister's oldest son, who had a great fear of needles. Recently, he contacted me to say he is ready to be tested, along with a friend with LS in their family. It was essential for me that my children and my sister's children have follow-up colonoscopies every three years, following the Finnish guidelines. Among my children, only my oldest is positive. He is sensitive and chooses not to talk about it publicly.
My journey with cancer
Digestive cancers are very tricky to reveal, and my case was no exception. I did not take my digestive symptoms very seriously, and it took me around six months to get an appointment. I had to have a colonoscopy, which was very painful.  I sensed something was wrong when the technician requested a doctor and stopped it early due to a blockage. They sent me home, but half an hour later, I was called back in – a tennis-ball-sized tumour was growing in my colon – this also happened to be my 37th birthday, what a present! My first thoughts were about my children, I had to be strong, and I couldn't bear the thought of my husband raising three small kids alone.
My tumour was removed before leaving San Diego, and a chemotherapy regime was recommended, but I was not convinced. My brother-in-law, a doctor in Scotland, checked with his colleagues for a second opinion; it was an almost identical path. Looking for a third opinion, I contacted the Finnish hospital, where the doctors did not recommend any chemotherapy because of the advancement of my colon cancer. I chose to forego the chemotherapy after surgery because I wanted to have the option in case the cancer returned.
After my positive LS test in Canada, my oncologist did a yearly PET scan. Before moving back to Finland, my last PET scan revealed a tumour in my thyroid. Canada had a long wait time, so I scheduled the surgery in Finland. I moved back with three kids and emergency supplies, getting by with much help from family and friends.
Three days before the thyroid operation, I had an LS follow-up colonoscopy, where they found a couple of tiny polyps, which were immediately removed. I was put on blood thinners before the thyroid surgery because I had pulmonary embolisms a few years earlier. After my thyroid surgery, I continued to bleed for hours from "the bottom" because of the blood thinners and the removal of the polyps. The thyroid removal caused a calcium cramp, and I had several blood transfusions before they stopped the blood thinners; only then did the heavy bleeding in my colon stop. To summarise, I have had my share of "interesting stories" and multiple skin cancers, including squamous and basal cell carcinoma.
My mother is a walking miracle
She is 84 years old and remains in forever positive motion! She has survived eight different cancers; stomach, colon, renal pelvis, breast, and lung; all along with several types of skin cancers. She was 50 when her stomach was surgically removed, and she received no chemotherapy. Previously, she had skin cancers like mine, but they treated her with the wrong diagnosis for over 15 years. Later, they took out her spleen, and at that point, she chose to retire because of its impact on the quality of her life. At 72, she underwent surgery to remove her entire colon; during the surgery, they decided to save 35 to 40cm of her colon, as her life would be overly complicated without a stomach and colon. She also had cancer of the renal pelvis, and they had to remove her kidney. Despite all this, she says, "it could be worse", and I agree! When asked about her positive attitude after all these illnesses, she replies: "I love life!" with a smile. We both believe one can accept their new life and make the best of it because whines and moans wouldn't change anything. When asked in a newspaper interview if she's had her share of cancers, she replied: "I'm sure that I will still have more, and when they come, we will deal with them". Nothing can stop her, and she still eats whatever she wants, to the dismay of her doctors!
We must spread the word!
When I moved to Finland, I felt alone. I recalled that the cancer department at the San Diego hospital had a separate lobby with a cosy atmosphere for patients, which I would like to have in our hospitals in Finland. When I returned, there were no support groups for LS patients. Some people knew about LS in hospitals but didn't talk about it that much. In general, Finnish people don't always open up so easily. After trying to reach out to different patient support networks, I finally got Finland's Bowel Cancer Association to start a support group for us Lynchies with me, established over four years ago.  Today we have about 150 members, which is a lot for Finland!  I have also taken many courses to become a peer support person and an LS advocate. I continue to give interviews about LS, some with my mother and some with our three generations, since spreading awareness is essential!
LS can affect many family relatives! By being open about my story, I hope to bring hope to those newly diagnosed. You must remember it does not always mean that you automatically get cancer; by getting your regular check-ups, getting to know your body, and listening to it, we are always one step ahead!
I also hope the day will come when people with bowel surgeries can find a way to get a "toilet pass" for quicker and improved accessibility. This is possible here in Finland through some patient organisations, and I believe everyone across Europe deserves the dignity of accessibility.
Together we are stronger, and we must not leave anyone behind. I would do anything so that others don't face what I went through.
Stay positive!
I have had multiple cancers, and I keep saying that today you are here, tomorrow you might not be, so enjoy what you are doing today. Everybody has some mutations, and some learn about them sooner than others. Sometimes it is better not to know everything, but not always because severe alerts can help prevent fatal problems. If you know you have LS, you don't have to go through the regular Health Centre route and wait for weeks since LS people are monitored closely.
We want to hear your story
We hope that this section of our website will provide the platform and inspiration for patients/survivors to tell their own story. If you would like to contribute to this page please contact us.