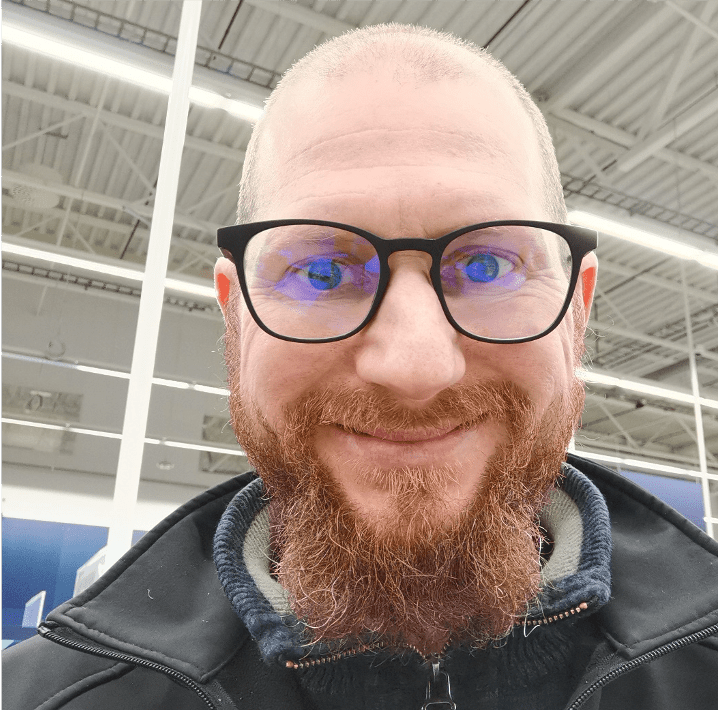 Ireneusz's story
So, my main message to other patients is – always look on the bright side of your life, never give up and always fight!
It is with great sadness that we recognize the passing of Ireneusz in December 2021. He leaves behind his wife Beata.
Ireneusz was very active and generous in giving his patient voice to as many of DiCE's patient projects as he possibly could, despite his worsening health. He was bright, motivated and fun no matter the insurmountable challenges – physical and mental – that he was facing. He was someone to learn and to gain strength and hope from. Ireneusz, you are sorely missed, may you rest in peace.
Ireneusz' Story – in his own words from June 2021
Hello my name's Ireneusz. I am 40 years old and am from Poland but in 2016 I moved with my then girlfriend, who has since become my wife, to Iceland for a job and the adventure of moving to a new country with new opportunities. The beginning here was very good, I was a healthy and strong young man who liked walking in the mountains and enjoying life in another country. In 2018 I got the news that changed this new life drastically. I was diagnosed with stage IV rectal cancer. My doctor told me the only way to treat it was with surgery and a permanent colostomy and that if this wasn't performed, I would only have a few months left. So, we did that, and I had the surgery.
Everything was perfect and after a few months following the operation I went back to work but unfortunately in 2020, my doctor informed me the cancer was back, again in the rectum. When I was first diagnosed it was only on the one side, but it was now on both sides and again it was very big – 4-5 centimetres – and it had also spread to my lungs. This time because the rectal cancer was and is in a part of the pelvis that the oncologist cannot reach safely, it's inoperable. So, at the moment I am fighting very hard in the fourth stage of cancer with palliative chemotherapy. It has all happened so fast – everything changed – I don't know exactly when and we don't know why, which is very hard.
Since this development my cancer has progressed further with doctors finding changes on my spine along with the metastasis on my lungs. With this, my treatment has changed but I'm fighting hard to continue with it and maintain a good quality of life as long as possible in order to be able to spend time with my 'Angel Wife' who makes me happy, happy, happy!
A Precarious Financial Situation
Along with this my financial situation is very difficult, bureaucracy is slow and I've been waiting for six months to receive the pension from Ireland where I worked before moving to Iceland. Also due to changes in my pension from a rehabilitation to a disability pension, the amount I'm set to receive is less. That's why I need to ask for help and have set up a crowdsourcing website – if any of you out there reads this and is able to support, even with the smallest amount, I would be very grateful.
About Signs and Symptoms – Don't Wait to Get Checked!
I had lived with a pain in my back that was increasing for quite some time. It started six to seven years ago, and I went to the doctors, and they didn't know what was going on. I had massages and other similar treatments, but it didn't go away. Then finally, when I also noticed blood in my stool they sent me for a colonoscopy, only to discover that it was stage IV cancer. I can only say to people that if they have pain – back pain, belly pain, blood in their stool – that they don't wait, they need to go to the doctor and get checked. And yes, the colonoscopy may seem like a lot, and uncomfortable but it is really essential and can save your life.
What has his Experience with Cancer Taught Him and What Would he Like to Share with Others?
What have I learned? That no matter how much pain you are living through, you have to take every day that you have and make the most of it in order to spend it with the people you love – you have to fight very hard for every moment gained.
What would I like to share with others? If you're fighting don't do it alone, find someone to be with you. It's not easy, no one day is the same. Even when going to chemotherapy there's always something new coming out – a new pain or a new side effect – even if you think you know everything, you discover you don't know anything – and this part is very hard. But no matter how hard things get there will be good moments and that you can win with even the smallest of things. Just look on the bright side of your life.
I would also like to encourage that people reach out to others who have lived through the same experiences. People who have lived through the physical realities and the practical realities of what having cancer means. What it means to be constantly fighting, to be living with the unknown effects of treatment, to be unable to work and to have to live with a new and often difficult financial reality. You can find people who have faced these things too – other patients from organisations like DiCE. Contact them because although they may not have lived through exactly the same experiences, they know what living with cancer is like and they can help. That's why I need to share my story, so that people like me know they're not alone.
So, my main message to other patients is – always look on the bright side of your life, never give up and always fight!
We want to hear your story
We hope that this section of our website will provide the platform and inspiration for patients/survivors to tell their own story. If you would like to contribute to this page please contact us.