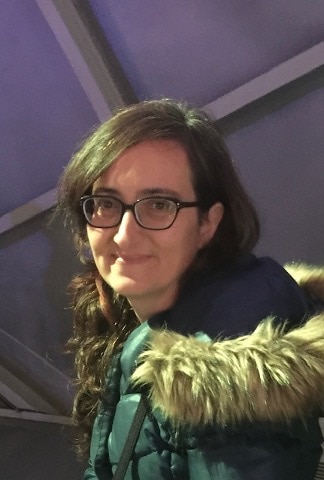 Hilde's story
Today, I am grateful to be in remission, but I think if I was properly screened for Lynch Syndrome when I shared my family history and symptoms with my doctor, so much pain and misery could have been avoided.
I am Hilde, a mother of two, partner, medical doctor, and a Lynch patient. I am the first in my family with this diagnosis.
When I was diagnosed with ovarian cancer, I was the same age as my father was when he died from colon cancer. He was diagnosed at age 36 and he died at age 41. His sister had a brain tumor and died when she was in her 40s. My grandfather had a bladder carcinoma, he was also barely 50 years old. So, there's clearly an increased risk of cancer in my small family.
The Search for Cancer Begins
Back in 2012, I was constantly struggling with abdominal pain that I thought was caused by a recurrence of endometriosis (a painful condition in which the lining of the uterus grows outside the uterus). Given my father's early colon cancer diagnosis and family history, I decided to schedule a colonoscopy. It revealed a benign polyp, and I was relieved.
But my pain continued and my husband, who is also a medical doctor, urged me to see a gynaecologist. I ended up needing an emergency laparoscopy and I was diagnosed with ovarian cancer. During the laparoscopy the tumor was ruptured, so a week later I underwent surgery. Unfortunately, my follow ups revealed that not all of the tumour was resected during the debulking surgery (removal of all visible tumors).
The Hard Road of Recovery
My recovery was a long and hard road, with many hospitalizations. I had an intestinal obstruction, abdominal abscess, nerve pressure that caused partial paralysis of my leg, and further complications such as accumulation of lymph fluid.
I had many returning urinary tract infections and kidney infections, with one kidney becoming almost afunctional, and seven years later I needed a nephrectomy (surgical removal of the kidney). Nobody had told me that three out of four women undergoing a radical hysterectomy (surgical removal of the uterus) as part of the debulking, develop bladder problems – I did not receive any functional urological follow-up care.
I also developed extensive bowel problems after the debulking where a Lower Anterior Resection (LAR) was performed. The collection of symptoms that develop following this procedure is called LAR syndrome. After lots of trial and error, I have found colonic irrigation to be the best thing that helps my LAR symptoms, but it is still hard.
Complications Could Have Been Avoided with Expert Care and a Multidisciplinary Approach
While I am happy to be alive, I regret that I was not referred to an expert center for ovarian cancer as soon as I was diagnosed. Most of my complications could have been avoided with expert care and a multidisciplinary approach. I wish I had access to a care team including dietitians, physiotherapists, geneticists, and psychologists – for me, my partner, and my children.
I continued to suffer with abdominal pain, and even with my tumor markers being elevated, my pain was dismissed as complications from my previous procedures. So, I asked for another colonoscopy. This time they saw a tumor, and later the MRI and PET-CT scans revealed extensive metastases. I had relapsed, and my oncologist was recommending palliative chemotherapy with an estimated survival of 3 years.
I refused to accept this. So, I did my research online for an expert in ovarian cancer and found Prof. Ceelen (UZ Gent). Under his care I received more tumor debulking with HIPEC, a treatment where the abdominal cavity is rinsed with heated chemotherapy. Despite these being very long and complicated surgeries, each of my recoveries were complication-free. I had my last debulking with HIPEC in 2014, after which my oncologist suggested we stop the chemotherapy.
Modifying My Lifestyle – Diet, Exercise and Meditation
I chose to continue my care by modifying my lifestyle completely and through natural supplementation.  I changed my diet, I started exercising regularly and began meditating.
I cannot tell you exactly what is helping, maybe a combination of everything, but my tumor markers have never been so low ten years down the road.
Lynch Syndrome Diagnosis in 2015
I am a medical doctor and with my family history, of course I thought of hereditary conditions. I asked to be tested for Lynch Syndrome in 2012 but was only diagnosed with it in 2015. I had to fight for genetic testing and was tested for BRCA1/2 before Lynch. My experience is that this condition is poorly understood by most doctors, and it is mostly associated with a risk for colon or endometrial cancer. Unfortunately, even after relapse, my tumour was not tested for MSI values [microsatellite instability (MSI) looks for changes in the known genes associated with Lynch Syndrome]. Regardless of the fact that ovarian cancer is less common than colon cancer or endometrial cancer among patients with Lynch syndrome, I find it unacceptable that testing for Lynch Syndrome was ignored, especially with my family history and my strong insistance. I believe every woman and man should have the right to be extensively tested if there is a doubt or suspicion of a hereditary disorder, especially if they have or plan to have children.
I continue to suffer from the consequences of the extensive surgical procedures but knowing that this condition might be passed on to my children, is especially difficult. My children are now 14 and 22 years old. My 14-year-old daughter would like to know if she has inherited the mutation, but she can only be tested at 18. My 22-year-old son 'doesn't have the time' to get tested and cannot see the usefulness in doing it now, I cannot convince him for the moment. My life would have been very different had I known my genetic predisposition earlier. That is why I think awareness and genetic testing is so very important when one's clinical family history is suggestive of hereditary syndromes.
Tips – Quality of Life Must Stay the Highest Priority
Throughout my journey I've experienced a lack of attention to my long-term quality of life. Yes, survival is the goal, but overall quality of life must be of the highest priority to the care team as well. So, I would like to share some tips; things I wish I knew earlier and things I would do differently, I hope they will help you along your journey:
Treatment (surgeries and therapies) should always be performed in a centre of expertise. This has a huge impact on survival and on quality of life.
Primary care physicians must be better trained on the significance of family history, especially with cancer onset at an unusually young age or high rates of cancer within families.
A cancer cannot be treated with a single treatment, so stay open-minded to other options, ask questions, do your research.
As a patient I urge you to always:
Seek a second opinion. Consider everything and don't be passive.
If you suspect a hereditary factor, ask for genetic testing and counselling.
When you are diagnosed with a cancer, do a thorough family history yourself.
Be aware that in previous generations cancer was a taboo subject.
Ask for a multidisciplinary approach for your treatment: surgeon, dietitian, psychologist, physiotherapist, geneticist, and any other specialist you might need.
Always keep your doctor informed about everything you are feeling (physical and emotional).
Join a patient association because together you are stronger. Patient associations have a crucial role: communicating with and

raising awareness among scientists, clinicians, policy makers and

patients.

Patient associations have great resources on treatments, follow up and quality of life.
Today, I am grateful to be in remission, but I think if I was properly screened for Lynch Syndrome when I shared my family history and symptoms with my doctor, so much pain and misery could have been avoided. My treatments and surveillance would have been different. I did not listen to my feelings and intuition, and I regret it to this day.
Hilde is a member of the Familial Adenomatous Polyposis Association (FAPA) Belgian Polyposis Project Hereditary Colorectal Cancer Project.
Would you like to get in touch with your local patient organisation or talk to Hilde or someone like her who has life experience with cancer? Please contact us and we will put you in touch.
We want to hear your story
We hope that this section of our website will provide the platform and inspiration for patients/survivors to tell their own story. If you would like to contribute to this page please contact us.