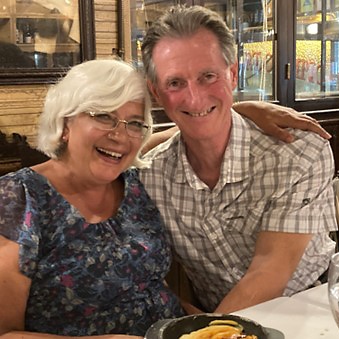 Mark's story
As a carer, you can only be a pillar of support to someone if you are healthy in your own body and mind. I had to prepare myself mentally.
My wife, Barbara, was diagnosed with stage four colon cancer in November 2006. I became a carer very suddenly!
Maybe I shouldn't have been so shocked. It was a complete shock. I say this because Barbara had been to see her GP with all the symptoms of colon cancer for six years and had been told three times that she was suffering from something minor. Nothing to worry about. When she became so anaemic that she needed an emergency blood transfusion, she was admitted to the hospital and told that she had three months to live. I nearly fainted. All sorts of things rushed through my mind. Nothing made sense.
When I left Barbara in the hospital to come home to our two sons, I suddenly felt alone. I was suddenly responsible for so much. Indeed, responsibilities for something in which I had no experience.
My first thought was about our two sons and how I would tell them. This was one of the most difficult things to do. They were young adults and early in adult education and careers, therefore fully understanding but still dependent. It was a difficult, close moment with each.
I felt very alone, yet responsible. There were so many decisions to be made. I didn't understand the process. There were waiting times at the hospital to gain further results and then we had to make decisions together. The CT scan showed that Barbara had stage IV colon cancer, with the primary in the ascending colon and a metastasis of a 15cm tumour in her left liver. This was devastating, and we were told that there was no hope.
I really didn't know where to start or where to turn. I took all the advice from the clinical staff and put full faith in Barbara's oncologist. In the beginning, we just did what was advised. There were several hiccups on the way, including coming in and out of the hospital. I was fortunate that my employers were so understanding and allowed me the time. I fully realised that there were many other patients whom we befriended who were not so fortunate.
My daily routine was totally changed with visits in and out of the hospital every day to see Barbara, to support her, and to share everything with our sons. What I did not expect was the huge amount of time that it took on the phone to answer all the family's questions. This was difficult because some of them were demanding, and I felt exhausted in responding to these calls after trying to fit in my own work when I could.
We were not expecting miracles for Barbara, but after both types of available chemotherapy had reduced effectiveness, we realised that hopes were indeed failing. This is when we started to ask questions and to become empowered, looking further afield as to whether there were any other options. Looking on the internet, there were biological treatments that we found in Europe and America of which we had not been informed. We asked about them and discovered that they were not readily available in the U.K. They were expensive.  We went through a lengthy process with the NHS funding to gain access to these drugs and failed. We decided, although there was no guarantee of success, that we would pay for the treatment ourselves.
Barbara was now out of the hospital, and we had so many decisions to think about and to make. I was allowed to reduce my work hours, which helped so much. We had to think about finance. Barbara decided to retire from work early, so we re-wrote our will and worked through how we might finance this treatment.
We looked for support where it was available. Bowel Cancer UK was amazing in informing us of the legal processes of our entitlements. I was also really grateful to Macmillan nurses for their help and guidance throughout the whole process. That feeling of my loneliness was given support, and this was so helpful for me. For the whole family, our lives had been turned upside down. We learned to live and enjoy each day. We tried to get away in our caravan in between chemos, checking that we were within reach of our hospital, sometimes arranging blood tests from a local one. I was able to play my guitar while Barbara had a rest in the afternoon, and this was so relaxing for me. This was my time! I recommend the value for every carer to find a "my time".
There were at least three hospital visits a week, and I tried to accompany Barbara and stay with her. I was there to ask questions, aware that two together might retain the information to discuss together at home. We found this to be so important as some things slip your mind when you have so much to remember.
Barbara never complained, and our good communication helped us throughout. It was helpful that we could open our minds and hearts to one another. It really helped us to get through.
We have been so fortunate in that Barbara's treatment worked. We may not have been so lucky, and we had to be prepared for the outcomes. As a carer, you can only be a pillar of support to someone if you are healthy in your own body and mind. I had to prepare myself mentally.
I feel strongly that there is not sufficient support for those who need help. Having come through the journey, I have felt the need for this, and 16 years on, I feel that we carers can help others through our experiences. I have spoken about my journey through Barbara's experience of cancer to help others who are placed in a similar position.
My strongest message is to be open with others and to be honest with yourself. Ask questions of your doctors and nurses about treatment and pain control, tell them about your concerns, write down your questions before every appointment and discuss these questions together with your partner beforehand. Being a carer for Barbara was natural for me. I love her.
We want to hear your story
We hope that this section of our website will provide the platform and inspiration for patients/survivors to tell their own story. If you would like to contribute to this page please contact us.