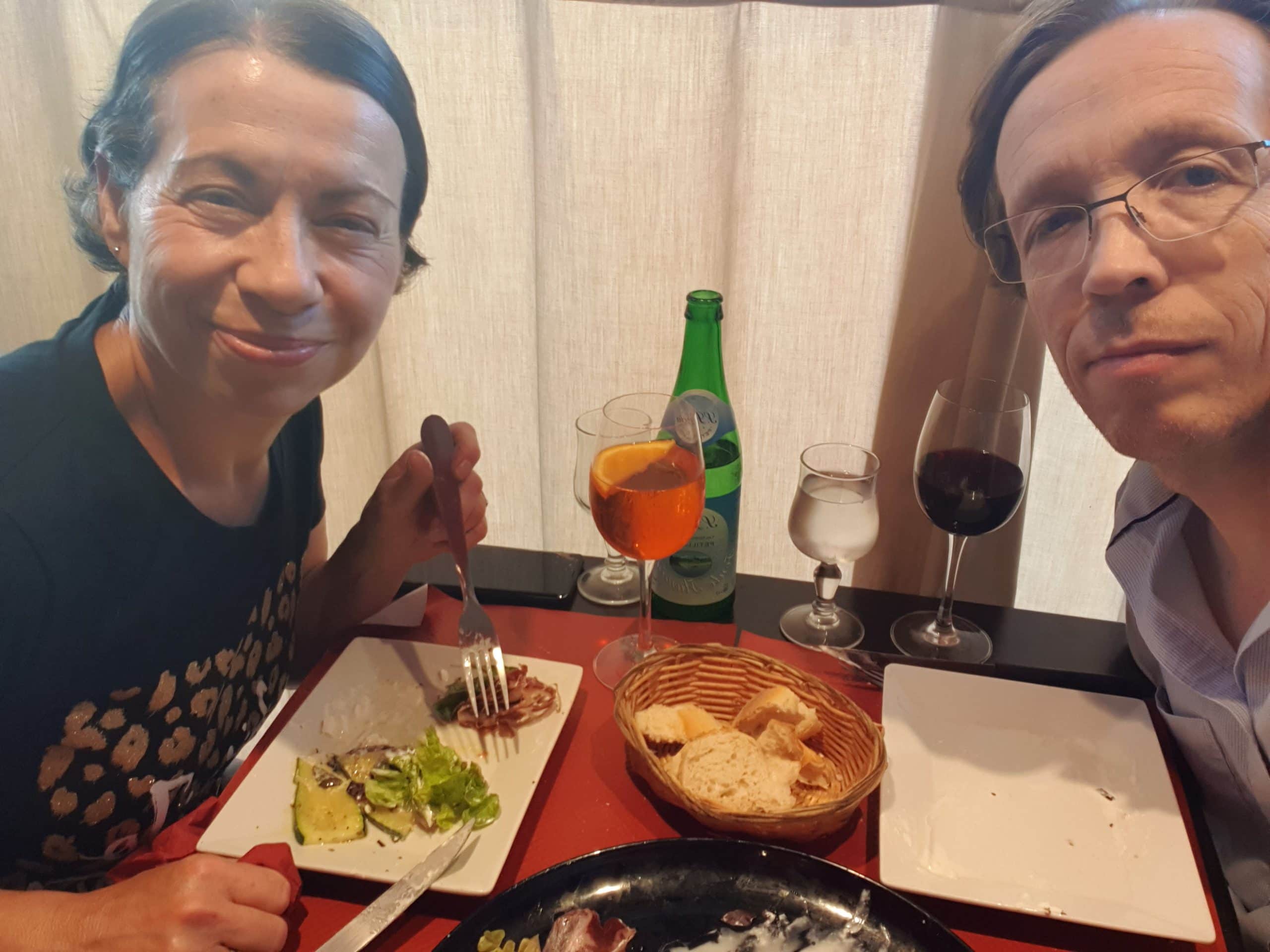 Mike's story
I want to share my story of living with metastatic colorectal cancer (mCRC) with you. In my experience, the need for psychological support for people living through similar circumstances is enormous but grossly under met where I live.
Hi, my name's Mike and I live outside of Paris, France. I'm originally from the UK but have lived in and around Paris for the last 25 years. I want to share my story of living with metastatic colorectal cancer (mCRC) with you. In my experience, the need for psychological support for people living through similar circumstances is enormous but grossly under met where I live. I hope sharing my story helps others on their mental journey of facing and living with cancer. I also hope that by pointing out the vast need for psychological support during such times, I can give a clear message that this aspect must be improved for patients in France and across Europe.
My diagnostic and treatment journey
I was diagnosed in October 2019. I didn't have a lot of symptoms. I was fit and was taking part in cycling races. I had some pain and discomfort in my nether regions – my digestive system. I went to my GP, and we tried a few treatments but when these weren't having any effect, he sent me for a colonoscopy. There they discovered a fairly large growth.
Although the practitioner hadn't mentioned the 'C' word, it was self-evident that it was cancer. Looking back at it now, I am absolutely scandalized that there was no support, no phone numbers to call, absolutely nothing offered at this point, just, 'we have these results, see that with your GP' and that was it.
I saw my GP a day or so after and within a week I had an appointment with a surgeon. He confirmed it was cancer and that it was 'locally well advanced' and explained that I could expect to have radiotherapy, chemotherapy and probably surgery. Again, it was all very clear on the medical side of things but there was absolutely nothing in terms of psychological support or contact to patient networks or anything like that.
I took a few days to digest it, I asked around amongst friends and also with my work's doctor and it was clear where I needed to go for the best treatment – one of the main public hospitals in the centre of Paris.
Starting November 2019, I then underwent radio and chemotherapy for about a six-week period. It wasn't pleasant but in terms of side effects, it wasn't too bad. I had a month off and then I went in for further scans and it was confirmed that I was going to have a posterior centric exenteration, a surgery that included the removal of the rectum and the anus and the placement of an ostomy. Except a short period of help from an ostomy nurse, again, there was no psychological support. This was in March 2020.
My recovery went reasonably well, and I got back on my feet quite quickly. I then underwent post-operative chemotherapy for six months and continued with three monthly scans.
A recurrence and further surgery
Frighteningly, in November 2020 they found another nodule, the cancer had metastasized to my bladder, and I had to have another major operation to remove my bladder and prostate. This meant the addition of a urostomy, so I now have two bags, but this is not such a big deal, it doesn't stop me from doing things in life and from living the way I want. There were some complications with this, and it took me a good five months to recover.
In December 2021 I had another recurrence in some fatty tissue and for this I underwent cryotherapy – the use of extreme cold to remove the cancerous tissue.
As I tell this story it's now May 2022, and my next scan is now scheduled for next month – fingers crossed they don't find anything new, but if they do, we'll deal with it!
The greatest challenges
The hardest aspects I've had to face are the psychological ones – particularly with the recurrences. When you get the initial diagnosis you think – 'OK we'll fight this, it's going to be OK, we'll have the treatment and see where we're going to go from there'.
But then you get the news that it's not finished, and you're obliged to take into account the likely outcome.
Also, along with your own psychological strain, there's also the strain on your relationships. When you're concentrating on being treated and convalescing from cancer, it's hard to consider the feelings of others and to see that they also require attention. Particularly in the way of acknowledgment of what your partner and loved ones are doing for you and also going through with you and your predicament.
My advice to others facing cancer
I would like to share the following with people who have to go through a similar scenario:
There is no 'right way' of dealing with cancer – it's an individual journey that each person tackles in their own way.
Seek out reliable information – be careful of Dr. Google – get in contact with your local patient organisation and find out what the best sources of information are on your disease state.
Prepare for your appointments
I keep what I call 'My little book of arse cancer'. It makes sure I ask all the questions I want to ask at the consultation, and I also get the therapeutic benefits of having to write things down.
Do exercise and get active
It's not easy to start exercising when you're feeling miserable but doing it just gives you that little extra bit of energy that you need to make it through. I have really been helped by what is known as 'clinical pilates'. I found this on 'The Ostomy Studio' – a website offering an online course that you can access whenever you want and that I can really recommend.
Ask for help
Cancer touches so many parts of your life – physical, psychological, administrative, relational, the list goes on. You'll face some very tough challenges, but you have to remember there are people out there that can help you move through them and that you're not alone. Friends and family, patient organisations, healthcare practitioners, psychologists, they are there to support you and you shouldn't hesitate to reach out and ask for help.
Thank you for all the support!
To conclude, I want to say thank you to all those who have helped me so far.
Along with my friends, family and precious partner, I also want to say a big thank you to my place of work that has been amazing through this whole experience. They've given me the time I have needed to get better and convalesce and have allowed me to go back to work at my own rhythm. I'm now back to work on a full-time basis and this does a lot for my self-esteem and ability to live with this disease. I also want to say a very big thanks to Mon Reseau Cancer Colorectal in France and Bowel Cancer UK, both patient support organisations that have been a great source of trusted information and peer support.
We want to hear your story
We hope that this section of our website will provide the platform and inspiration for patients/survivors to tell their own story. If you would like to contribute to this page please contact us.